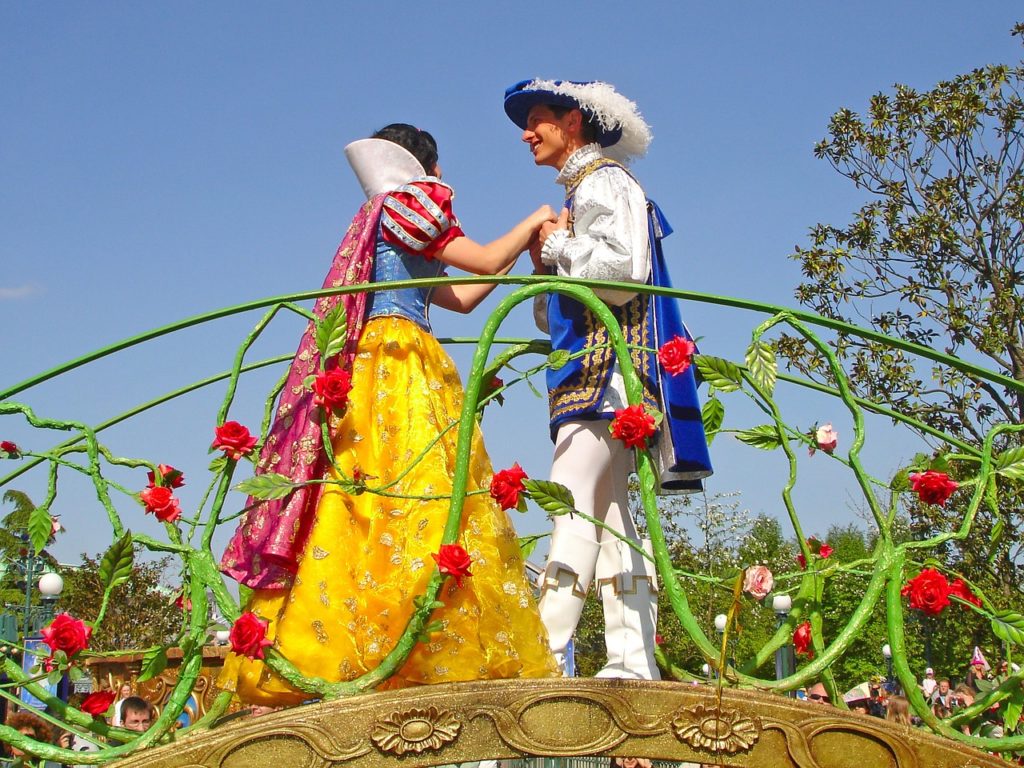 This entry is from our Expert Guest series where wedding and honeymoon professionals share their best tips on creating memories that last a lifetime….
It doesn't matter how many times I've seen Snow White, I still route for her not to eat the poisonous apple.
I know. I know, the poisonous apple leads her to true love's kiss, but I can't help but wish for a non-salty path to her Happily Ever After. Who routes for stress anyways?
Luckily, in reality, brides don't have to travel down Snow White's tension-ridden path to Happily Ever After. You can thank the endless tap of support and stress-free alternatives waiting to take lead: internet, wine, and those friends who don't hold anything back when it comes to giving free advice (usually after two glasses of wine.)
When it's your time to ring the bell for wedding flower planning, we wanted to make sure you have a quick handy-dandy guide (particularly like this one below) that will help steer you away from the most common wedding flower oversights – no one likes pesky little speed bumps.
How To Have A Fairytale Wedding
Read on for a collection of bad apples to avoid, so you can feel all the zen when stepping foot into your first floral consultation. There will be no trumping bliss mode here.
1. Mistaking Inspiration for Reality
We all know Pinterest is an inspiration mecca. It's the first spot we hunt for inspo and the last place we check before making any final inspo decisions – especially for wedding planning. However, what we have to commit to memory is that Pinterest is inspiration and solely JUST that. We would warn not to mistake inspiration for reality.
In actuality, the majority of wedding flowers found via Pinterest (those you fall in love with and obsess over) are Photoshop'd, color corrected, or styled flawlessly after 30 shots/takes – which is why Pinterest replicating isn't a fun game and can leave so many of us frustrated.
We're here to provide a friendly reminder to take a step back, breathe, and disengage from sparking the madness of Pinterest perfection, because who likes copycats anyways? Make it your own.
Your love story should be different because get this….there isn't a love out there like yours and soon-to-be-hubby's. And, the right wedding florist will encourage this truth by assisting you in finding similar choices and solutions to capture all those Pinterest inspirations. Take in the inspo but cheer for originality.
2. Not Factoring in Extra Budget
Remember, the so-called wedding vendor you absolutely love because of their incredible designs, gifted talent, and rocking personality? Well… take away that extra budget tacked on at the end of the invoice, and they wouldn't be in business. The extra budget isn't one hefty number vendors just pull out of thin air. That number is formed from items that get the job done such as tax, rentals, gas mileage, labor, and more. While heading into your meeting, keep in mind that vendors have to earn a living to be able to afford to design magical moments for us all somehow.
Understanding the importance of the extra budget component will allow you to be less hesitant at that fundamental number at the bottom of your invoice. Trust me, the added labor costs are essential and extremely worth it.
3. Wedding Floral Budgets Are Not the Same
Every wedding is different. Therefore, every wedding budget is different. A big, big misconception is when a bride compares her flower quotes to a fellow girlfriends wedding.
For instance, your friend had her wedding in Napa Valley, and you're having yours in Charleston. There's already a HUGE difference: location. Add in the decor styles, theme, flower preferences, and y'all will come up with completely different Pinterest boards. With these differences on board comes contrasting price points. And, that's A-okay.
Hopefully, spotlighting these common floral mistakes will lead you to sighs of relief instead of tense shoulders as you joyfully journey toward your Big Day. Swerve around those bad apples and keep that hippo sized to-do list in check.
Keep Blooming!
Help finance your fairytale wedding dreams with a Honeyfund honeymoon registry!
BIO: Blooming Hites Floral & Event Design of Roswell, GA has unique designs to fit your various occasions. From everyday celebrations to your happily ever after, our designs set the tone for every event!
 Jackie Hites
Website: https://www.bloominghites.com
Facebook: https://www.facebook.com/bloominghites/
Instagram: http://instagram.com/bloominghites