Hot Tech Start-Up & Shark Tank Winner Honeyfund Joins Tampa Bay Community
January 29, 2018 (Clearwater, Fl.)—Honeyfund, the #1 honeymoon and wedding registry app, has recently relocated their headquarters from Sonoma County, California to Clearwater, Florida.
"Being so close to Silicon Valley made hiring top-notch engineers a challenge. Tampa Bay's tech boom — both in terms of talented employees and a vibrant entrepreneurial community — was very attractive. We realized we could hack our growth by moving the company here," said CEO and co-founder Sara Margulis.
Honeyfund was launched in 2006 after Sara Margulis and her husband, Josh Margulis, CTO, discovered the need for a crowdfunding website that catered to couples wanting an experience over household items. Their crowdfunding wedding registry raised $5,000 for their exotic honeymoon to Fiji and inspired what later became Honeyfund.
In 2014, The Margulises were invited to pitch Honeyfund on ABC's Shark Tank and won a deal with Kevin O'Leary ("Mr. Wonderful"). They have used the investment to expand their team and services, including launching the Honeyfund app and the Honeyfund gift card. In 2015, the company partnered with the nation's top retail registries to offer one-stop giving. This year, the founders will realize a 12-year vision by offering zero-fee giving — a first in the crowdfunding industry.
Today, nearly 800,000 couples have used Honeyfund, receiving more than half a billion dollars in gift contributions. Apart from being a honeymoon registry, couples have the flexibility to have family and friends contribute to other savings goals such as home down payments, charity and more.
Beyond the wedding, sister-site Plumfund offers crowd-gifting for events such as baby showers, anniversaries, retirement and more. Recently, Plumfund users have raised money for everything from maternity leave to divorce, without the typical 5% crowdfunding fee.
Media Contact:
Kolby Kucyk
press@honeyfund.com
Online Wedding Registries Are Here to Stay

November 28, 2017—The Week discusses how Honeyfund kicked-off the honeymoon registry trend and has continued to stay at the head of the online crowd-giving registry pack. Read the full story here.
Why Honeymoon Registries Are Becoming the Wedding Registry Norm
September 21, 2017—With the millennial bride and groom comes a new way of gift-giving for the modern couple. Vogue dives deep into how and why crowdfunding your honeymoon is now the norm. Read the full story here.
Shark-Tank Winner Honeyfund Launches the First Universal Travel Gift Card, Leveraging Partnerships & nearly $425 Million in Honeymoon Giving
From millennials to baby boomers, weddings to retirement, anyone can now give an enriching life experience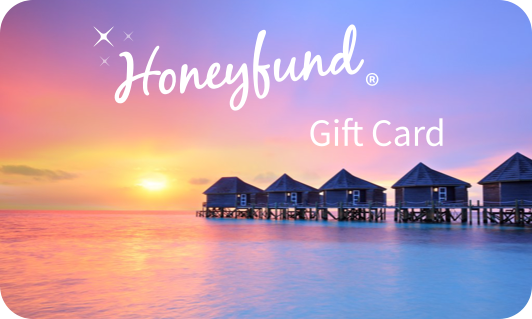 San Francisco — (December 1, 2016) — Honeyfund, the #1 honeymoon wedding registry site, today unveiled the first-ever universal travel and experience gift card. Just in time for the holidays, Honeyfund Gift Card recipients can redeem the card for unlimited travel experiences from top partners including Hotels.com, Royal Caribbean International, Groupon, QVC, Uber, and many more.
After a successful Shark Tank appearance in 2014 where the company partnered with 'Mr. Wonderful,' Kevin O'Leary, Honeyfund has continued to grow in popularity – it's now the #1 wedding registry app and most-used universal wedding registry site on the market. The site has doubled in giving volume since Shark Tank, with nearly $425 million in gifts since the company was founded back in 2006.
"With the Honeyfund Gift Card, anyone can buy the gift of a truly customizable experience for anyone else," explains Sara Margulis, Honeyfund chief executive officer and co-founder. "From a once-in-a-lifetime experience, like scuba diving in Bali, to a simple spa day or wine-tasting trip, the memories of this gift will last a lifetime."
New research from Airbnb shows that millennials would rather spend their money travelling over buying a home or paying off debt. Uber's gift card launched recently to target wandering millennials. Indeed, Honeyfund has grown largely due to this trend, where wedding couples and guests alike continue to value experiences more than things.  The Honeyfund Gift Card was conceived to allow hundreds of millions of wedding guests to give a honeymoon gift even if the couple isn't registered on Honeyfund. It turns out to be a great gift for any occasion.
Mr. O'Leary agrees. "Honeyfund has pioneered experience giving for weddings, offering people exactly what they want: a flexible, out-of-the box gift. The Honeyfund Gift Cards leverages more than 10 years experience in honeymoons to offer the perfect gift for the millennial generation – travel and experiences. Honeyfund has been a great investment with tremendous growth in the past two years. The gift card is a natural extension of that growth."
Top Three Reasons a Honeyfund Gift Card is the Perfect Holiday Gift
Convenience: With the Honeyfund Gift Card, give a great travel experience instantly, with confidence the receiver will love it!
Flexibility: The Honeyfund Gift Card can be redeemed through a wide array of air, cruise, hotel, restaurant and retail partners, offering unlimited experiences around the world!
Fun & Meaningful: Givers love a unique and meaningful gift. The Honeyfund Gift Card offers a customized experience the recipient will never forget.
For more information about Honeyfund and the new Gift Card, please visit honeyfund.com/giftcard.
About Honeyfund
Founded in 2006, Honeyfund's founders Sara and Josh Margulis discovered their own wedding guests enthusiastically preferred giving experiences and memories over housewares. As they prepared for their own wedding, they created a simple page for family and friends to contribute to their dream honeymoon in Fiji. In 2014, Sara and Josh brought their idea to Shark Tank, and received investment backing from renowned investor, Kevin O'Leary, who continues to be an active partner to this day.
Today, Honeyfund is the #1 wedding registry app, and a crowdfunding pioneer. With 100% free options, Honeyfund and sister-site Plumfund now power all kinds of experiences and savings goals, for all of life's occasions.
# # #
Media Contact:
Sara Margulis
press@honeyfund.com
Honeyfund CEO Sara Margulis Discusses Shark Tank and Kevin O'Leary on Cheddar Life

November 18, 2016—Discussing women and business with Honeyfund/Plumfund co-founder and CEO Sara Margulis. Watch Sara give advice to women in the tech industry, tips on using Honeyfund and Plumfund and the scoop on a new Honeyfund product in the works! See the full interview here.
Real Honeyfund Couple Mixes Up Modern and Traditional Registry Options

October 7, 2016—A blog post from a real couple making the decision between using a traditional registry or a honeymoon registry. Why not have both? Honeyfund is featured on Weddingbee as the couple's honeymoon registry of choice! Ultimately, the couple decided to do what worked best for them and gave their guests the option to contribute towards a trip of a lifetime or in store items. The perfect mix of modern and traditional gifting.
Cosmopolitan Interviews Honeyfund CEO Sara Margulis about the History of Honeymoons
June 26, 2016—Cosmopolitan and Sara Margulis, CEO of Honeyfund, give us a history of honeymoons, where the tradition came from and how with time it has become increasingly difficult for the modern couple to achieve a honeymoon. Luckily, Honeyfund is available to help couples get their dream vacation.
Racked Covers Etiquette of Modern Wedding Registries
June 10, 2016—Racked weighs in on the etiquette of wedding registries. They talk traditional versus modern options, what couples really want and what guests are comfortable giving. Honeyfund is mentioned as a great way to give guests gifting options as well as a way for couples to avoid the process of returning those unwanted tangible items. Read the full story here.
22 Best Places to Register For Your Wedding
June 9, 2016—Vogue rounds up the nation's top registry options for modern wedding couples, including Honeyfund honeymoon registry.
Step One to the Perfect Honeymoon: The Honeyfund App
June 8, 2016—Advice and tips for planning the perfect honeymoon. brides.com walks us through 9 apps and services for planning, booking, and finding limitless experiences for your honeymoon. Step one being Honeyfund.
What Weddings Looked Like the Year You Were Born

June 3, 2016—SFGate runs through the most significant milestones in wedding history over 100 years. Honeyfund captures the mood of 2006. Read the full story here.
Honeyfund and Plumfund featured on ABC's 'Shark Tank' spinoff, 'Beyond the Tank'
May, 2016—Find out what it's really like to survive the 'Shark Tank' by watching Honeyfund and Plumfund on ABC's 'Beyond The Tank.' A closer look at Honeyfund/Plumfund and the future of the company. Investor Kevin O'Leary gets real with founders Sara and Josh Margulis about making some risky business model changes.
Arianna Huffington joins Honeyfund/Plumfund CEO Sara Margulis on ABC's 'Beyond The Tank'
May 20, 2016—Arianna Huffington joins Honeyfund/Plumfund CEO Sara Margulis along with investor Kevin O'Leary for "Beyond The Tank". The team meets to discuss Honeyfund updates and an exciting partnership between Plumfund and The Huffington Post.
How to Ask for Cash Instead of Gifts
March 3, 2016—Forget blenders! CBS reports on the now socially acceptable practice of asking your guests for cash instead of wedding gifts you may never use. Couples are turning to Honeyfund.com to crowd-fund their dream honeymoon trip.
Cash Wedding Gifts - How Much to Give
December 28, 2015—The New York Times navigates the struggle of giving a wedding gift. What to give? How much to give? What does the couple actually want? Honeyfund is mentioned as a modern way for wedding guests to give the couple what they really want — cash for things like a honeymoon. Read the full story.
Unique Wedding Registry Options for Modern Couples
November 29, 2015—Honeyfund is featured as the #1 wedding crowd-gifting platform on about.com! Honeyfund gives modern couples a place to register for anything from a honeymoon, adventurous experiences, to cash for a home. Couples can even add traditional items or registries from top retail stores with the new universal registry tool. Read the full article on About.com.
As Honeyfund's Episode Re-airs During Shark Tank Week, Site has Raised $100 Million in Gifts in One Year
September 11, 2015—Heavy.com recently interviewed Honeyfund CEO Sara Margulis about the growth of the company since Shark Tank, including news about sister-crowdfunding site Plumfund as well what it's like to work with Kevin O'Leary. O'Leary nominated Honeyfund for 'Shark Tank Week' and called the deal his favorite of Season 6. The episode will re-air Sept 13 at 8/7c on ABC.
Honeyfund Partners with National Retailers including Pottery Barn, Macy's and Target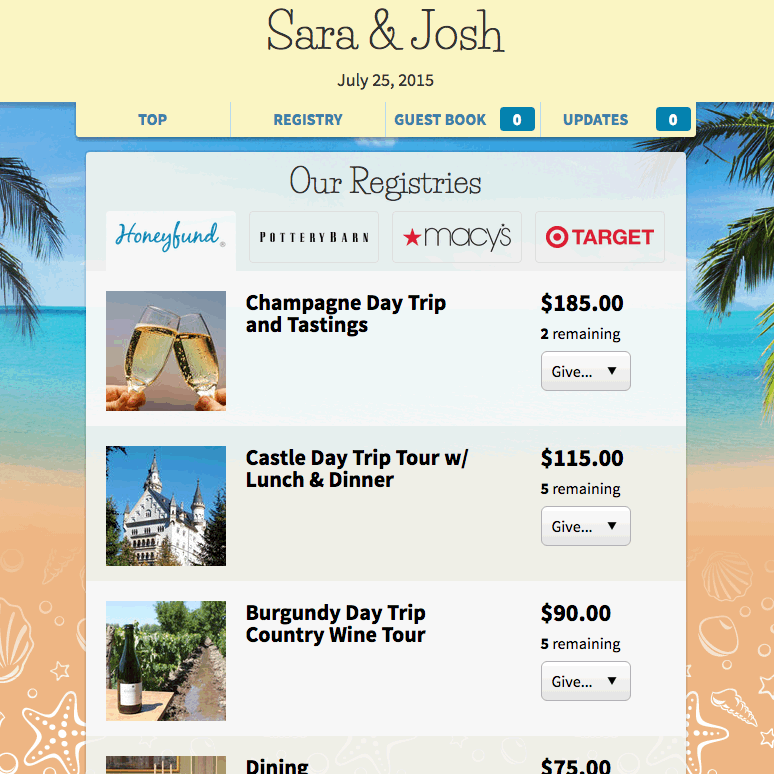 September 10, 2015 —SEBASTOPOL, CA—Honeyfund, the #1 honeymoon registry, has created a first-of-its-kind, one-stop wedding registry, featuring partnerships with national retailers including Pottery Barn, Macy's and Target. The new feature displays retail registries alongside the honeymoon wish list, allowing wedding gift givers to choose from experience gifts or traditional housewares. "Wedding guests love choices when shopping for a gift. The more choices the better," explains Sara Margulis, Honeyfund CEO and co-founder. "Some will relish the chance to give a once-in-a-lifetime experience like wine tasting in France. Others will carefully choose an item for the home that will be cherished for years. Honeyfund is proud to be the first registry that lets givers choose."

Sara and her husband, Josh Margulis, developed Honeyfund in 2006 for couples to receive contributions toward a honeymoon, without paying high fees. After growing to the #7 most-used wedding registry in the US, the Margulises appeared on ABC's Shark Tank in 2014 and won a deal with shark Kevin O'Leary. Now they're using the investment to expand Honeyfund to all types of gifts, including charity and home-down-payment gifts, as well as retail.

The retail program not only allows users to choose a gift that's meaningful to them, it also keeps the nation's leading retail brands top-of-mind. Brides and grooms are invited to start a new retail gift registry directly from their Honeyfund account. "We've always encouraged couples to have store registries in addition to their Honeyfund. Now we can surface and suggest specific wedding registries like Macy's and Pottery Barn right in the Honeyfund account," says Sara Margulis.

The program was announced via email to more than 50,000 current Honeyfund couples on August 2. Alongside Macy's, Pottery Barn and Target the program includes West Elm, Bloomingdales, Sur La Table, Best Buy, Kohl's, Wal-Mart and Michael C. Fina, among others.

For more announcements about Honeyfund and to learn more about the company, please visit our website.

About Honeyfund:
Founded in 2006, Honeyfund is the #1 honeymoon registry, and a crowdfunding pioneer. With 100% free options, Honeyfund and sister-site Plumfund now power all kinds of experiences and savings goals, for all of life's occasions. Honeyfund couples have raised more than $300 million to-date!

Honeyfund Contact: press@honeyfund.com 
New York Times Features Honeyfund in Story About Millenial Wedding Gift Trends
July 26, 2015—"When it comes to registering for gifts, a generational sea change has developed, with more and more millennial couples asking their guests to consider holding the gravy ladles and shelving the dishes in favor of gifts of a very different sort." Read the full story.
Honeyfund Launches Spanish Version: 'Fondo de Miel'
February 1, 2015—Sebastopol, CA—In conjunction with it's Shark Tank rerun, Honeyfund announces the launch of the Spanish service, Fondo de Miel. The first free Spanish-language honeymoon registry site, made possible by the Shark Tank investment from Kevin O'Leary, is demonstrated here by reporter Vanessa Hand Orellana of CNET Español.
Honeyfund, the Top Honeymoon Registry, Strikes a Deal on Shark Tank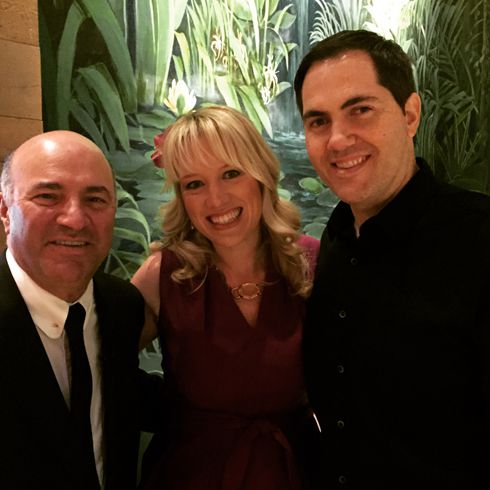 November 5, 2014—Sebastopol, CA—Just in time for holiday gifting and wedding engagement season, Honeyfund, the popular honeymoon registry, recently closed a deal with Kevin O'Leary of ABC's hit reality show 'Shark Tank,' to expand its gift-funding business.
After multiple offers from three sharks, Honeyfund and Plumfund owners Sara and Josh Margulis chose a $400,000 deal from Kevin O'Leary (aka 'Mr. Wonderful') to grow their gift-funding websites for honeymoons, birthdays, anniversaries, projects and other life events. Without taking a stake in the company, O'Leary requested one third of net transaction revenues until he recoups his $400,000 three times.
"We are excited to use this investment to launch Fondo de Miel, the Spanish version of Honeyfund, and to further customize and expand what is already the easiest way to raise money for gifts," said Sara Margulis, Honeyfund Cofounder and CEO. "Working with 'Mr. Wonderful' is a dream-come-true, as he brings expertise in online transactions and opens new doors with potential partners," she added.
"Honeyfund and Plumfund make raising money for all kinds of gifts fun and easy. They have tremendous growth potential as we expand their gift funding offerings and global reach," said Kevin O'Leary, Founder of O'Leary Financial.
Founding Honeyfund in 2006, the Margulises are crowd funding pioneers. Their idea was born from their own need when planning their Fiji honeymoon. Honeyfund is now the top alternative wedding registry where friends and family help pay for a honeymoon or any savings goals, and can indicate specific gifts including meals, special outings, hotels, airfare and even a down payment on a home. To date, Honeyfund has transacted approximately $239 million in gifts.
In May of 2013, the Margulises launched a second site, Plumfund (www.plumfund.com.) for other gift-giving events such as birthdays, holiday gifting, baby showers and projects. Both sites offer free gift funding options for users as well as customization and upgrades.
The Margulises were initially invited to apply for the show by a Shark Tank staff member who had used Honeyfund and was a fan of the site.
About Honeyfund
Honeyfund is the world's most popular honeymoon registry. Together with Plumfund, they offer the easiest way to raise money for gifts or anything else – for free. To learn more, please visit www.honeyfund.com and www.plumfund.com.
About Kevin O'Leary
Kevin O'Leary is an entrepreneur and financier, best known for his role as an investor on ABC's Shark Tank. He leads a group of financial companies as chairman of O'Leary Financial Group. He is also the founder of O'Leary Fine Wines and the bestselling author of Cold Hard Truth on Men, Women and Money. Previously, O'Leary founded and was president of SoftKey (later called The Learning Company), a global educational software company, and negotiated its $4 billion acquisition by Mattel. For more information, visit www.olearyfinancial.com and follow @kevinolearytv .
Media: Photography is available at www.ABCMediaNet.com.
Honeyfund Contact: press@honeyfund.com 
'Shark Tank' Hosts Compete for the Kickstarter of Honeymoons
October 27, 2014—Graham Winfrey of Inc.com recaps Honeyfund's apperance on ABC's hit reality show 'Shark Tank," saying "Sara and Josh Margulis had the sharks eating out of their hands..." Read the full story here.
Anna Post sets the record straight about honeymoon registries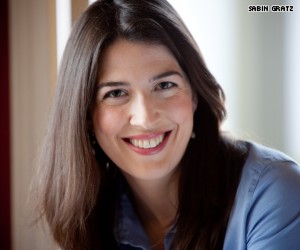 Anna Post, great-great-granddaughter of Emily Post, breaks down the rules of the sometimes-taboo subject of giving money as a wedding gift. Read the story here.