As Honeyfund's Episode Re-airs During Shark Tank Week, Site has Raised $100 Million in Gifts in One Year
September 11, 2015—Heavy.com recently interviewed Honeyfund CEO Sara Margulis about the growth of the company since Shark Tank, including news about sister-crowdfunding site Plumfund as well what it's like to work with Kevin O'Leary. O'Leary nominated Honeyfund for 'Shark Tank Week' and called the deal his favorite of Season 6. The episode will re-air Sept 13 at 8/7c on ABC.
Honeyfund Partners with National Retailers including Pottery Barn, Macy's and Target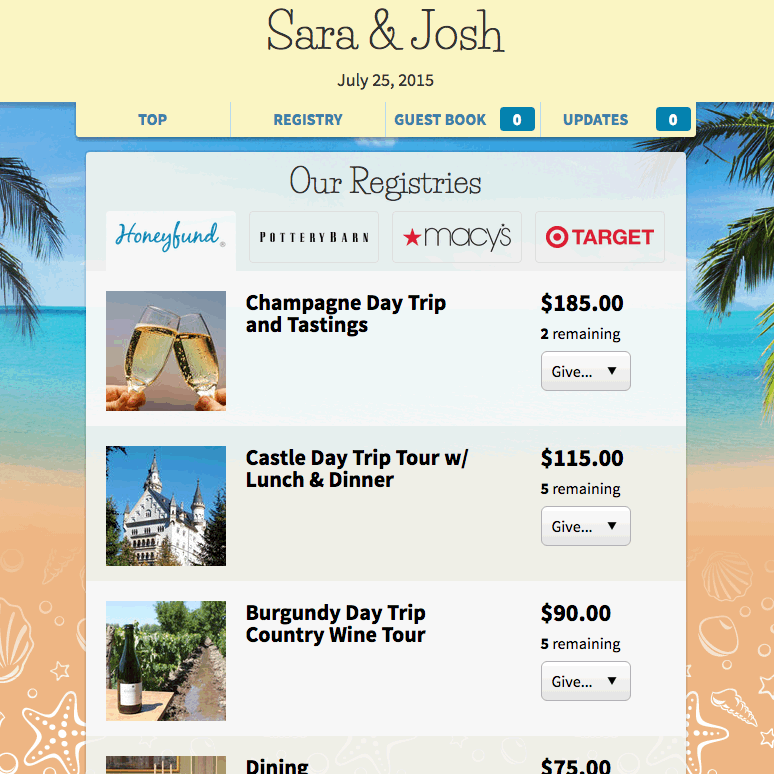 September 10, 2015 —SEBASTOPOL, CA—Honeyfund, the #1 honeymoon registry, has created a first-of-its-kind, one-stop wedding registry, featuring partnerships with national retailers including Pottery Barn, Macy's and Target. The new feature displays retail registries alongside the honeymoon wish list, allowing wedding gift givers to choose from experience gifts or traditional housewares. "Wedding guests love choices when shopping for a gift. The more choices the better," explains Sara Margulis, Honeyfund CEO and co-founder. "Some will relish the chance to give a once-in-a-lifetime experience like wine tasting in France. Others will carefully choose an item for the home that will be cherished for years. Honeyfund is proud to be the first registry that lets givers choose."

Sara and her husband, Josh Margulis, developed Honeyfund in 2006 for couples to receive contributions toward a honeymoon, without paying high fees. After growing to the #7 most-used wedding registry in the US, the Margulises appeared on ABC's Shark Tank in 2014 and won a deal with shark Kevin O'Leary. Now they're using the investment to expand Honeyfund to all types of gifts, including charity and home-down-payment gifts, as well as retail.

The retail program not only allows users to choose a gift that's meaningful to them, it also keeps the nation's leading retail brands top-of-mind. Brides and grooms are invited to start a new retail gift registry directly from their Honeyfund account. "We've always encouraged couples to have store registries in addition to their Honeyfund. Now we can surface and suggest specific wedding registries like Macy's and Pottery Barn right in the Honeyfund account," says Sara Margulis.

The program was announced via email to more than 50,000 current Honeyfund couples on August 2. Alongside Macy's, Pottery Barn and Target the program includes West Elm, Bloomingdales, Sur La Table, Best Buy, Kohl's, Wal-Mart and Michael C. Fina, among others.

For more announcements about Honeyfund and to learn more about the company, please visit our website.

About Honeyfund:
Founded in 2006, Honeyfund is the #1 honeymoon registry, and a crowdfunding pioneer. With 100% free options, Honeyfund and sister-site Plumfund now power all kinds of experiences and savings goals, for all of life's occasions. Honeyfund couples have raised more than $300 million to-date!

Honeyfund Contact: press@honeyfund.com 
New York Times Features Honeyfund in Story About Millenial Wedding Gift Trends
July 26, 2015—"When it comes to registering for gifts, a generational sea change has developed, with more and more millennial couples asking their guests to consider holding the gravy ladles and shelving the dishes in favor of gifts of a very different sort." Read the full story.
Honeyfund Launches Spanish Version: 'Fondo de Miel'
February 1, 2015—Sebastopol, CA—In conjunction with it's Shark Tank rerun, Honeyfund announces the launch of the Spanish service, Fondo de Miel. The first free Spanish-language honeymoon registry site, made possible by the Shark Tank investment from Kevin O'Leary, is demonstrated here by reporter Vanessa Hand Orellana of CNET Español.
Honeyfund, the Top Honeymoon Registry, Strikes a Deal on Shark Tank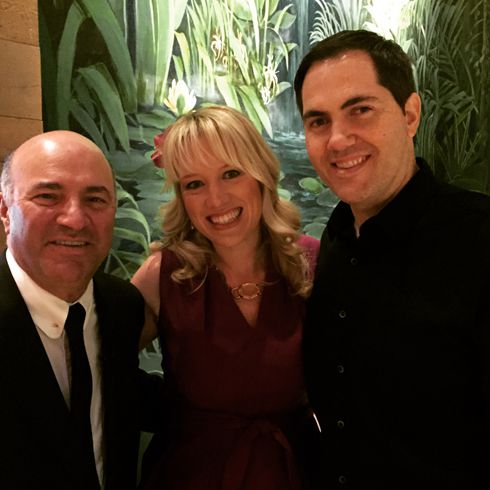 November 5, 2014—Sebastopol, CA—Just in time for holiday gifting and wedding engagement season, Honeyfund, the popular honeymoon registry, recently closed a deal with Kevin O'Leary of ABC's hit reality show 'Shark Tank,' to expand its gift-funding business.
After multiple offers from three sharks, Honeyfund and Plumfund owners Sara and Josh Margulis chose a $400,000 deal from Kevin O'Leary (aka 'Mr. Wonderful') to grow their gift-funding websites for honeymoons, birthdays, anniversaries, projects and other life events. Without taking a stake in the company, O'Leary requested one third of net transaction revenues until he recoups his $400,000 three times.
"We are excited to use this investment to launch Fondo de Miel, the Spanish version of Honeyfund, and to further customize and expand what is already the easiest way to raise money for gifts," said Sara Margulis, Honeyfund Cofounder and CEO. "Working with 'Mr. Wonderful' is a dream-come-true, as he brings expertise in online transactions and opens new doors with potential partners," she added.
"Honeyfund and Plumfund make raising money for all kinds of gifts fun and easy. They have tremendous growth potential as we expand their gift funding offerings and global reach," said Kevin O'Leary, Founder of O'Leary Financial.
Founding Honeyfund in 2006, the Margulises are crowd funding pioneers. Their idea was born from their own need when planning their Fiji honeymoon. Honeyfund is now the top alternative wedding registry where friends and family help pay for a honeymoon or any savings goals, and can indicate specific gifts including meals, special outings, hotels, airfare and even a down payment on a home. To date, Honeyfund has transacted approximately $239 million in gifts.
In May of 2013, the Margulises launched a second site, Plumfund (www.plumfund.com.) for other gift-giving events such as birthdays, holiday gifting, baby showers and projects. Both sites offer free gift funding options for users as well as customization and upgrades.
The Margulises were initially invited to apply for the show by a Shark Tank staff member who had used Honeyfund and was a fan of the site.
About Honeyfund
Honeyfund is the world's most popular honeymoon registry. Together with Plumfund, they offer the easiest way to raise money for gifts or anything else – for free. To learn more, please visit www.honeyfund.com and www.plumfund.com.
About Kevin O'Leary
Kevin O'Leary is an entrepreneur and financier, best known for his role as an investor on ABC's Shark Tank. He leads a group of financial companies as chairman of O'Leary Financial Group. He is also the founder of O'Leary Fine Wines and the bestselling author of Cold Hard Truth on Men, Women and Money. Previously, O'Leary founded and was president of SoftKey (later called The Learning Company), a global educational software company, and negotiated its $4 billion acquisition by Mattel. For more information, visit www.olearyfinancial.com and follow @kevinolearytv .
Media: Photography is available at www.ABCMediaNet.com.
Honeyfund Contact: press@honeyfund.com 
'Shark Tank' Hosts Compete for the Kickstarter of Honeymoons
October 27, 2014—Graham Winfrey of Inc.com recaps Honeyfund's apperance on ABC's hit reality show 'Shark Tank," saying "Sara and Josh Margulis had the sharks eating out of their hands..." Read the full story here.
Anna Post sets the record straight about honeymoon registries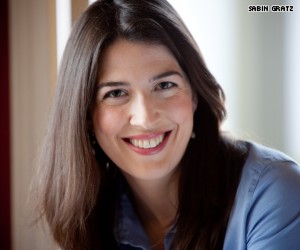 Anna Post, great-great-granddaughter of Emily Post, breaks down the rules of the sometimes-taboo subject of giving money as a wedding gift. Read the story here.