This entry is from our Expert Guest series where wedding and honeymoon professionals share their best tips on creating memories that last a lifetime. 
Beach Weddings are our passion. If you're like us, then you want to enjoy every second on the shore; we have some great tips to maximize the fun and amp up the beach atmosphere. A little planning up front saves a lot of stress down the line, allowing you to savor each precious moment.
Best Beach Wedding Tips

Tip 1 – Go Barefoot
Feel the sand between your toes and ditch the heels. You'll feel more relaxed and so will your guests. For stylish brides, check out foot jewelry to bring extra glamour. Think ahead with this as the decision could impact the length of your wedding dress.
Tip 2 – Have A Starfish-lined Aisle
Brown sugar starfish or white starfish make stylish aisle markers and add drama to your ceremony. Choose one color or alternate.
As a variation on the theme, you could also consider alternating with conch shells, especially if your color theme has shades of blush as the inside of the shell will fit in perfectly.
Tip 3 – Beach Bouquet Inspiration
The sky is the limit –  think of seashells, pearls, starfish, jewels. Flowers can still be a traditional base or you can totally reinvent the bouquet and create something unique. If you craft your own bouquet from shells, starfish or sand dollars you also have a wonderful keepsake to remind you of the day.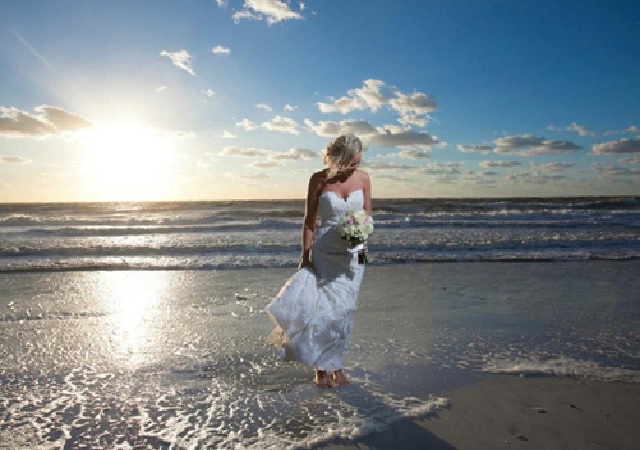 Tip 4 – Pictures In The Surf
You're at the beach and the waves are calling. You can cool down and have some fun to get some great candid portraits or choose the backdrop for romantic shots. Memorable and exhilarating, you'll forever be reminded of your beach ceremony.
 Tip 5 – Wipe The Sand From Your Toes
Beach wedding signs are hugely popular. Quirky and personal, make the most of the beach theme by inviting your guests to wipe the sand from their toes, keep the mood relaxed by displaying it with some paintbrushes.
Tip 6 – Groom Beach Style
It's not just the brides who can shine in the style department, take inspiration for a boutonniere with a difference. Shells, starfish, alone or combined with flowers, echo the details in the bridal bouquet with a miniaturized version for the groom and groomsmen. When it comes to beach wedding etiquette, you choose your dress code. Grooms may be formal in a tuxedo or casual in a Hawaiian shirt. Let your guests know in advance so that they know what to wear for the occasion, and also inform your wedding coordinator so that the minister or officiant are prepared.
Tip 7 – Beach Ring Bearers
Shells and starfish make for a stylish entrance when the ring bearer walks down the aisle. Remember to tie a ribbon around the rings just in case as dropping a ring in the sand on the beach leads to a difficult search. The ribbon can enhance your color scheme and will give a little extra confidence to your ring bearer, especially if they are young and a bit nervous for their starring role.
Tip 8 – Beach Makeover Your Reception
Take the elements of the shore and weave them through your reception. Ideas include piping on the cake, starfish toppers or shell decorations.
Carry the theme through to beach themed centerpieces which highlight your favorite beach themes.
Tip 9 – Ring Shots With Imagination
Classic ring shots show them stacked in front of a bouquet or on a pillow. Bring some beach inspiration with a handful of sand or use the arms of a starfish to showcase the symbols of the day.
One of the most creative ways to showcase the rings on the shore is to make handprints and then place the rings in the sand in those prints as if they were wearing the rings. It makes for a surprising album shot.
Tip 10 – Sunset Magic
On the west coast of Florida we're lucky to enjoy spectacular sunsets. If you want the sunset to give you one of nature's best backdrops, look to plan for a service about an hour before the scheduled sunset so that you can enjoy your ceremony and have time to relax and take some group portraits before the photographer focuses on romantic shots with the happy couple and the setting sun in the background. The light is sublime, the mood is intense and you'll get magical portraits.
Sometimes moody skies make for even more spectacular shots as the sun sets.
Beach weddings and vow renewals offer the opportunity to think outside the traditional box. Look for a beach wedding specialist who knows how to adapt to changing weather, respects the beach (take only photos, leave only footprints) and has suggestions to make your day stress free and fun. Think about taking beach toys to keep youngsters engaged while the photos are being taken or give them a disposable camera to take their own snapshots. When your potential gatecrashers are pelicans and dolphins, make sure to enjoy the beach and make the most of your tropical paradise.
Make your destination wedding happen with a honeymoon registry from Honeyfund.
Bio: Planning a wedding, especially a destination wedding, can be exciting yet very daunting and intimidating at the same time, which is why you need to have a level of comfort and trust in the company you choose. 
We at Suncoast Weddings don't claim to be the experts in everything, but we do claim to be the experts in what we do best, simply beautiful weddings by the Gulf of Mexico. We want your big day to be perfect just as much as you do, so that you can relax and enjoy the moment when it finally arrives. Trust Suncoast Weddings to deliver Florida beach weddings and vow renewals with class, elegance and style – all at the right price. In the romance business for more than 18 years and we specialize in assisting couples from all over the world live out their wedding dreams here in Florida.
We design beach wedding packages have been designed to help take all the guesswork out of planning your destination wedding. So if you're thinking of a beautiful romantic Florida beach wedding, a proposal or a vow renewal, no matter how simple, unique or lavish the requirements – we know we can make it happen. For more information, visit our website.