This entry is from our Expert Guest series where wedding and honeymoon professionals share their best tips on creating memories that last a lifetime.
How beautiful it is to have the most important people in your lives witness your wedding vows. For the longest time during the wedding planning, brides and grooms limit the wedding guest list to humans but in the modern days, pets are being included in the picture. Having your pet in your wedding can make your day and create important memories.
Pets are adorable creatures that are welcomed into families without second thoughts. Some love fur balls like dogs, cats, bunnies but others prefer birds and other animals that can be tamed with care and love. Regardless of what kind of pet, they are all loved equally. With this, many couples want their pets to be part of their special day because they have grown to be a huge part of your lives. Animals at weddings are not uncommon and it is not really everyone's cup of tea but why not, right?
There are already many couples who included their pets. Just like little Cassandra and Aaron's Real Wedding as featured in Hitched who has their little fur baby styled with a red bowtie, or Rebecca and Matthew's Real Wedding who had their little dog Alfie adorably photobomb their wedding photos.
Every pet is different so before anything else, you have to consider the temperament of your pets. Is he the shy type which you can just let him stay in the venue, or he's the kind of hyperactive and likes to play all the time? Is he okay with wearing stuff like ribbons, flowers, hats, or he tends to shake it off his body? Even though this is a small thing, ignoring these can result in disaster.
Of all people, it is you who knows how your pet behaves the entire day so the heavy decision of having them in one of the most important events in your life lies on you.
Including Your Pet In Your Wedding
There are hundreds of ways to include your pets in your wedding and it depends upon you how you want them to be in it. The possibilities are endless but here, we listed 7 different roles that your pet will perfectly fit into your wedding.
Adorable ways to include your pet in your wedding:

1. Save The Date Cards
Although save the date postcards are seen to be an added cost to wedding budgets, the importance is undeniably high as it passes along the relevant information for your wedding without the formal invitation, yet. With save the date cards, you can allow some time for your guests to prepare for your wedding. Some couple includes their pets in the save the date shoots to add some spice and interest to the cards. To add creativity, some couples even dress their pets just for the fun of it. Aren't they cute, though?
2. Pre-Nuptial Shoot
Another way to creatively include your pets into your wedding is to add them as a major detail to your pre-nuptial shoot. It is also one way to tell your audience that you are a pet-loving couple. This real couple photographed by Mayad Studios as featured in Bride and Breakfast had a real homey and cosy indoor shoot with their dog. It may be simple as compared to outdoor shoots with gowns and tuxedos but it delivers the feeling of how comfortable the couple are to each other, and of course with their little fur baby. Here are some of the shots of the couple posing with their pets that we found adorable. These poses can also be your inspiration in case you think getting your pet in the shoot is a great idea, too!

3. Card Bearer
Ah, the wedding entourage. A lot of couples have a hard time choosing who to include in their wedding entourage because of course, every person in this world wants their wedding to be spent with the important people. But why limit it to people when you can have pets in it, too? It's funny how these adorable babies can strut down the aisle, all dressed in tutus or bowties, while your guests can't resist their cuteness.
Being creative is important in this role as it requires you to think phrases that are witty, smart, and of course, personal. Phrases like, "My homies are getting married!", or "Here comes the bride!" or a simple yet funny, "Has anyone seen the rings?" Get creative with this one because the possibilities are endless!
4. Ring Bearer
The rings are the symbol of unending love between the couple. What a great way it is to have your furry best friend bring your wedding rings along your wedding aisle. However, not all pets are fit to be a ring bearer. Some pets are very temperamental and are not well behaved in a huge crowd, but if he is otherwise, then he is a perfect fit for this role!
There are many ways to secure the rings into your pet. They can have it tied on their back with a small cushion, you can have the rings secured in their collar, decorated with a few ribbons and flowers, then viola! You have an irresistibly cute and unique ring bearer!
4. Bouquet Substitute
This by far is my favourite among the pet roles. Although this kind of is a little bit demanding, the satisfaction and reward of how adorable this turns out is irreplaceable. If you have a lot of fur babies at home, and all of them are great within a huge crowd, then they can be a great substitute to flower bouquets. We suggest however to have your bridesmaids or groomsmen hold them instead of you, the couple, due to the fact that they can be suddenly irritable in the middle of the ceremony and can potentially disrupt the flow.
Don't forget to fill in some snack bags and a bottle of water to tame them in case the expected hunger episodes happen frequently. Also, this only applies if your bridesmaids or groomsmen love to pet your pets. Just look at the photos below how adorable they can be!
4. Wedding Prints
If you are not able to actually bring your pet into your ceremony or reception, a great way to still incorporate them in your wedding is to have them printed in your menu, invitation, table numbers, seat assignments, or anything you can think of. Gifterman produces vector type images while Blomfieldart is more on line art. Monsta, on the other hand, can achieve a watercolour style of a caricature. Never ever limit your imagination and don't ever let your pet's energy stop you from still having them in the party, even just in thought!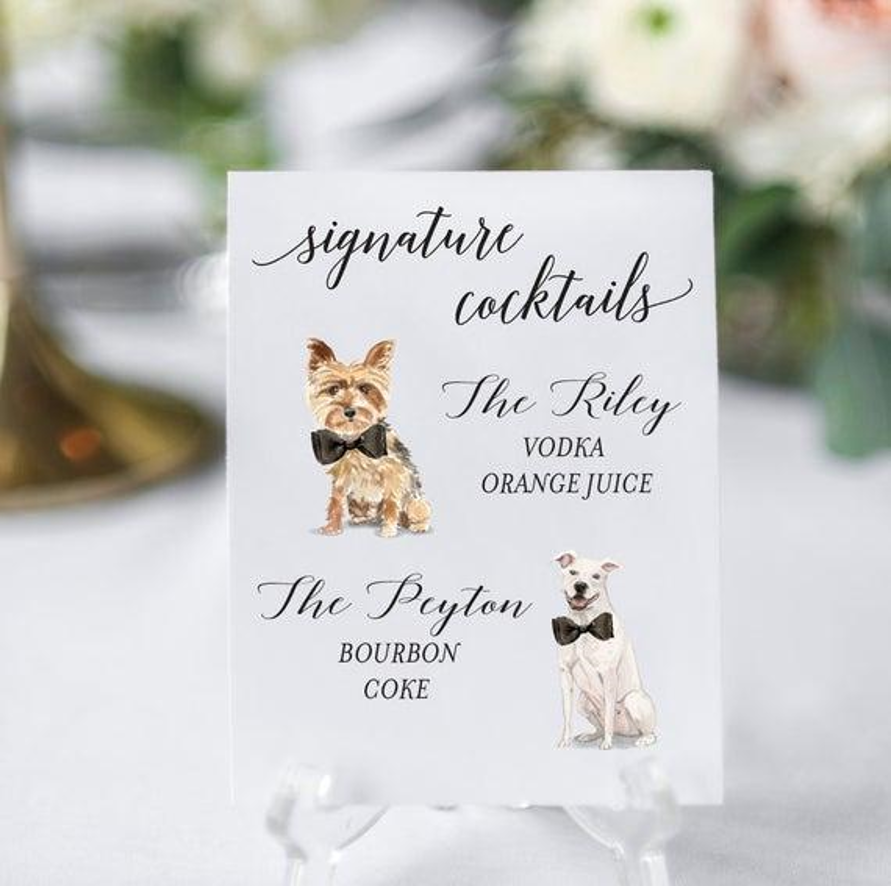 Just let your chosen artist know what you want for the caricatures to make sure that their style lines with the theme of your wedding. Below are some inspirations on how to include your pets without actually having them in the venue.
7. Let Them Stray
If your pet is one bubbly being, giving them a role in your wedding can be disastrous in the program flow and in the physical set-up. So, one option to still include your pet in your wedding without risking compromise in the wedding flow is to just let them roam around the wedding venue. Letting your pet stray in the bounds of your wedding venue is a great idea for this role is without commitment but have someone hold their leash whom your pet is comfortable with. But, if you don't have someone to lend a hand with your pet, there are groups who can be your wedding pet attendant for the day, like Pet Sitters or Pet Backer who has services for wedding ceremonies.
All your pet has to do is wear a wedding suit or a tutu and flash their cuteness in the camera. Your guests will also have the opportunity to take a photo with your pet when they are within their reach. Remember to always consider your pet's temperament in this option.
7.In Conclusion
Although this list only has a few options among the hundreds of possibilities for your wedding, you can start from this list to think about what you personally want for your wedding since this is a very subjective idea. It is also important to notify your guests that you are having your pet in the ceremony and reception because some may be allergic to furs, and others may have fears with animals. With this, you will be able to adjust to their needs without letting go of the idea of bringing your pets to your wedding.
American Kennel Club highly suggests bringing your pet a day before the event to allow him to explore and be familiar with the environment. With this, they'll be comfortable strutting on the big day. Just like humans, your pet needs rehearsals too. Let them be familiar with the commands you are going to use on the day.
The commitment to including your pets in your wedding is enormous, deciding on what role best fit their personality is confusing, and choosing a venue who allow pets in their property can be hard to find but one thing's for sure: IT WILL ALL BE WORTH IT!
Help realize your wedding dreams with a honeymoon registry from Honeyfund.