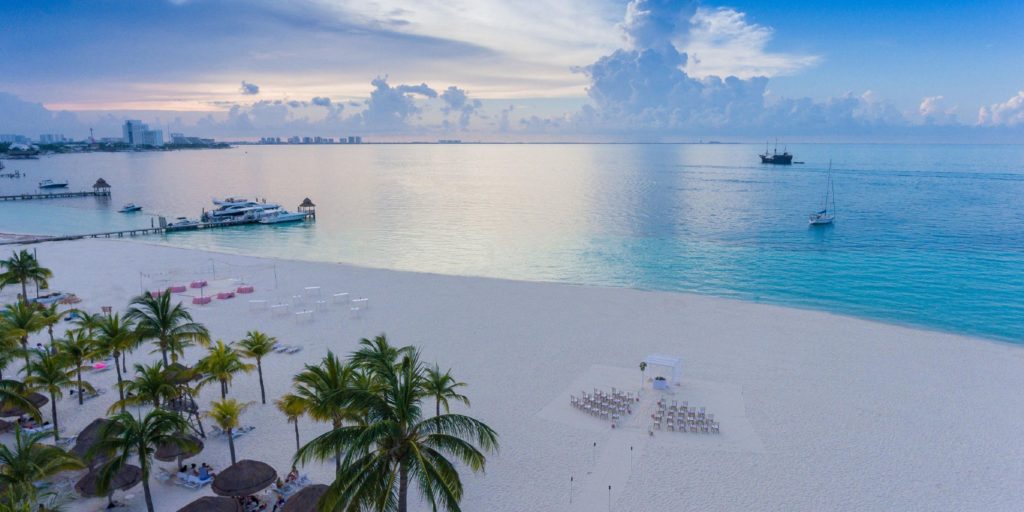 Picture this. Sitting under a bamboo umbrella. White sand beneath your feet. Crystal clear, blue water as far as you can see. The warmth of the sun on your skin. The love of your life relaxing beside you. Beautiful sunrises. Breath-taking sunsets. Nights filled with dancing and music. What more could you dream of for your honeymoon?
All of this can be your reality when you visit one of our top choices for honeymoon destinations: the Intercontinental Presidente Cancun Resort in Cancun, Mexico.
Sunkissed Hair and Salty Kisses
Set on a picture-perfect beach, the resort's magnificent location lets you dive straight into the calm, refreshing waters of the Caribbean. Spend your days walking the beach, hand in hand with the person you love. Or get active with water sports: snorkeling, scuba diving, swimming with the dolphins and more. If the salt water isn't your thing, laze the day away by the pool instead. No matter your type of water preferences, there's the best of both worlds.
Wander Where the WiFi is Weak
Travel to the ancient Mayan ruins that surround Cancun. And make sure you bring your camera! The cities are filled with stone temples and pyramids that were primarily ceremonial centers. The beauty of the ruins will make you forget that you even have a phone, let alone social media or emails. Take in the sites of Chicen Itza, Cobá, the Tulum Ruins, and others.
Once you're done taking in the culture and archaeological sites of the Mayans, fly high above the city of Cancun with a helicopter ride. It's truly unforgettable and gives you a view of the exquisite colors of the sea from above. Take in a whole different view of the beautiful city and the activities and beach life.
Where the Nights Last Forever
As the sun sets, leaving the sky bursting with color, Cancun comes alive with sophisticated nightspots. It's best known for being one long party after another once the sun sets. Every night. There are more than 25 fantastic nightclubs to dance the night away. It's the perfect ending to a day full of sand and sun. Artists, actors and other celebrities fly in from all over for the experience of Cancun's nightlife. We promise that this is something you won't want to miss when you visit Cancun.
Cancun has one of the most complimentary blends of sun, water, culture and fun. It's at the top of our list for honeymoon destinations and it should be yours too. Visit Cancun and have the honeymoon of a lifetime.