This entry is from our Expert Guest series where wedding and honeymoon professionals share their best tips on creating memories that last a lifetime….
When meeting with a florist, the question is how do you pick the perfect bridal bouquet?  Your bouquet is an accessory to your wedding ensemble, just like your shoes, veil, earrings, and bracelets. It should complement your bridal gown and be the perfect accessory piece. After all, you have spend hours with family and friends finding the perfect dress that says who you are and what you will look like for one of the most important days in your life. Your flowers should play a big part in carrying out the theme of the day and expressing your personality.
Bridal Bouquet Styles
A florist should understand who you are as a person so we can determine what would make you feel wonderful holding your flowers. Most A-type personalities like control, nothing spilling out or too organic. Clean lines like callas lilies, orchids, roses and hydrangeas make people feel good that the softness is in control, whereas I see the creative brides like flowers with texture and movement such as poppies, tulips, sweet peas, peonies and garden roses.
Once you figure out the style that compliments the dress as well as the type of personality the bride is then the creating of flower picking begins.
White vs. Color
 I get this question asked every day, a white bouquet versus a colored bouquet? A white bouquet is part of the accessories and not one thing jumps out except how beautiful the bride is. When you have color it will always be about the color first and then the bride will come into focus. Our eyes naturally look at contrast.  There is no right or wrong answer as to what to choose; it is just what statement do you want to create as you enter to walk down the aisle?
Focusing On The Bride
Once the bouquet florals and style have been determined, we suggest wrapping the bouquet in the same color the dress is so the stems disappear and all you look at is the bouquet and the bride. Brides are often confused of wedding photos versus a photo shoot. During a photo shoot we love to add textures like pearls, brooches, ribbons and rhinestones to the stems handles so you see the creativity of the full bouquet. When you are a bride and beginning to walk down the aisle the focus should be on the bride and her ensemble not the flying ribbon across the pin tucked skirt pulling our attention away from her.
Color & Style Trends
The color palette that we saw in 2014 will became a large part of 2015 is champagne and blush pinks. It is a very beautiful and soft romantic palette.  My concern is that brides get caught up on the media of the colors and end of picking them since that is what visually they keep seeing. There have been many brides sitting in my studio that when I dig deeper I find out that they actually do not even like the color pink. Then why do they pick it? Because many of us have trouble visualizing what our wedding is supposed to look and feel like. The wedding style, color and feeling are supposed to represent you as individuals as well as a couple. Being authentic and true to ones self while designing your wedding location, colors, style, activities will create truly a perfect moment in your life. You want to be able to look back in 10 years and still have it represent you.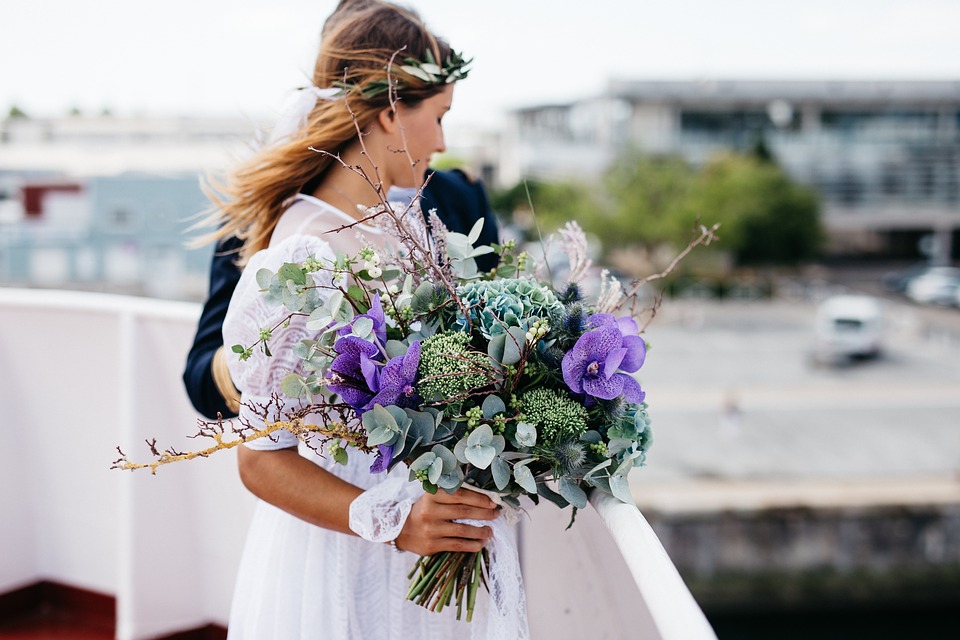 The big trend in floral for 2018 we are seeing are romantic, whimsical, and loose floral arrangements with lots of greens and textures. It is perfect for those winery, meadow weddings and Bohemian style shoots. Whites, crèmes and blush using anemones, sweet peas, peonies and ranunculus are the perfect backdrop – but adding the contrasting hues of blackberries, agonis, and burgundy dahlias create a warm rich palette that not everyone expects.
Allocating Your Flower Budget
Spend your money wisely, the big splurge should be on the bridal bouquet as that is the one item that will be photographed the most and displayed in your home.  Your ceremony is the least amount of time spent so I usually cut items there unless you are repurposing things like hanging pew jars that can be transferred to cocktail tables after the ceremony. Another way to save is to do maybe only 6 tall arrangements really well with abundant floral and smaller low lushes or candles will fill the rest of the room.
"Greens" can be just as much if not more then flowers so adding more of them is not always the right answer or suggestion to a florist.
Whatever color palette or style you end up choosing just make sure it is truly representing you as we all only have one chance to make this wedding a perfect moment in time.
Help finance your wedding expenses with a honeymoon register from Honeyfund.
Bio: The Flower House of Livermore, CA specializes in flower design for weddings and other events. Their lead floral designer Jinger Leonard put her 20 years of experience in the wedding industry to work for you. Their website offers beautiful examples of popular styles and trendy color palates that can help create the perfect wedding experience.
Phone: (925) 960-1375
Email: orchid@theflowerhouse.com