Honeymoon Packing Essentials: Smart and Stylish Travel
Packing for your honeymoon can be overwhelming, when you've already got so much other planning and prep work on your plate!. Whether you're heading to a tropical paradise or an alpine getaway, thinking about both what and how you pack can make this step of your honeymoon planning checklist easy.
If you're looking for products that merge function and luxury, Quince has become our go-to for high quality stylish travel essentials, at an affordable price point From their eco-friendly packing cubes to their lavish silk robes, Quince's products are designed to make your big day and honeymoon as delightful and hassle-free as possible. We've compiled the must-have items for your honeymoon from Quince that are oh-so aesthetically pleasing, but also practical.
Quince Packing Essentials
1.Phone Crossbody
Crafted from premium Italian leather, Quince's Phone Crossbody Italian Leather Bag is a compact and chic accessory. Perfect for honeymoon travel or everyday use, the thoughtful design ensures your phone and other essentials are always within reach.
2. Jewelry Case
Keep your special pieces safe and organized with Quince's Leather Jewelry Travel Case. This elegant case features compartments for rings, earrings, necklaces, and more. It's a chic way to bring your favorite jewelry with  you on your journey without the tangle.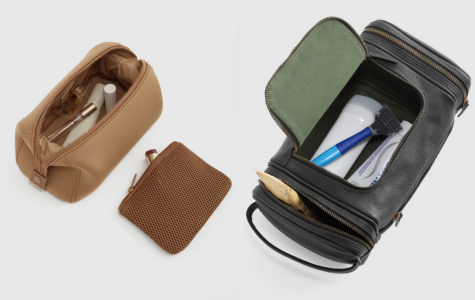 3. Toiletry Bag
A Toiletry Bag from Quince is a must-have for keeping grooming essentials in one convenient location. It's not just about organization; it's about doing so with style and sophistication. We recommend the All-Day Neoprene Toiletry Bag or the Nappa Leather Toiletry Bag.
4. Sleep Mask
Ensure a restful night's sleep wherever you are with Quince's Sleep Mask. Whether on a flight or adjusting to a new time zone, this sleep mask will help you drift into dreamland.
5. Robe
Add a touch of luxury to your honeymoon with Quince's Washable Silk Robes. These robes provide the perfect blend of elegance and comfort, crafted from sumptuous silk that's surprisingly easy to care for and pack. Ideal for lounging on a serene morning or winding down after a day of exploration, these silk robes are the epitome of indulgence. Even if your hotel has plush spa robes or even a silky soft robe, washable silk PJs can be a nice touch to your special getaway. 
Time To Get Packing
The honeymoon is a special time, and with these essentials, you're sure to have a hassle-free and stylish trip. The key is a combination of organization, elegance, and comfort, and Quince has successfully done all three with their products. Remember, the destination may be dreamy, but the journey can be just as enjoyable with the right travel companions and products. Happy packing, and here's to a beautiful start to the rest of your lives!
Co-authored by ChatGPT.