This entry is from our Expert Guest series where wedding and honeymoon professionals share their best tips on creating memories that last a lifetime.
Chances are that you have heard of the tropical island of Bali, which is located in the South Pacific and which is part of the world's largest island nation: Indonesia.
With its gentle tropical climate, enchanting culture, and stunningly beautiful landscape, Bali has become a major tourist destination.However, in spite of large numbers of tourist Bali has not lost its charm and appeal. And Bali has a lot to offer especially for newlyweds and honeymooners.
In the following, I would like to show you why Bali is the perfect honeymoon destination for you.
10 Reasons To Honeymoon In Bali – The World's Most Romantic Destination
1.  Bali has some of the world's most spectacular accommodation options
The choice of hotels and resorts is endless. From simple beach hut accommodations to super posh hotels and resorts, some of the world's most stunning holiday villas, and stylish designer hotels, Bali has it all. The world's most acclaimed hotel chains are to be found in Bali. Whether you want to stay in a beach resort, in a jungle resort, a hip stylish boutique hotel, or up in mountains overlooking one of Bali's four volcanoes, it's all there for you to discover. You will certainly find your dream honeymoon escape.
However, my personal advice is for you to stay in one of Bali's spectacular private villas. Many holiday villas offer several hundred square meters living space and large tropical gardens at unbeatable prices.
2.  Limitless options for leisure activities and places to visit
One thing which sets Bali apart from other island holiday destinations is the sheer abundance of activities you may indulge in. Because there are so many I rather list them in bullet points:
For the ˜sports buffs:
Swimming, diving, snorkeling
Surfing, including kite surfing
Mountain hiking
Wild water rafting
And much more
For the culturally-inclined:
Temple visits & witnessing of religious activities
Visiting traditional textile making
Witness woodcarvers, stone-carvers, musical instrument makers and many other artisans
A great variety of cultural / traditional performances in music and dance.
And a plethora of traditional Balinese painting galleries and museums.
You may also take up cooking classes, traditional Balinese dance lessons, Yoga & meditations courses and much more.
Even after weeks in Bali, you will not run out of options on what do.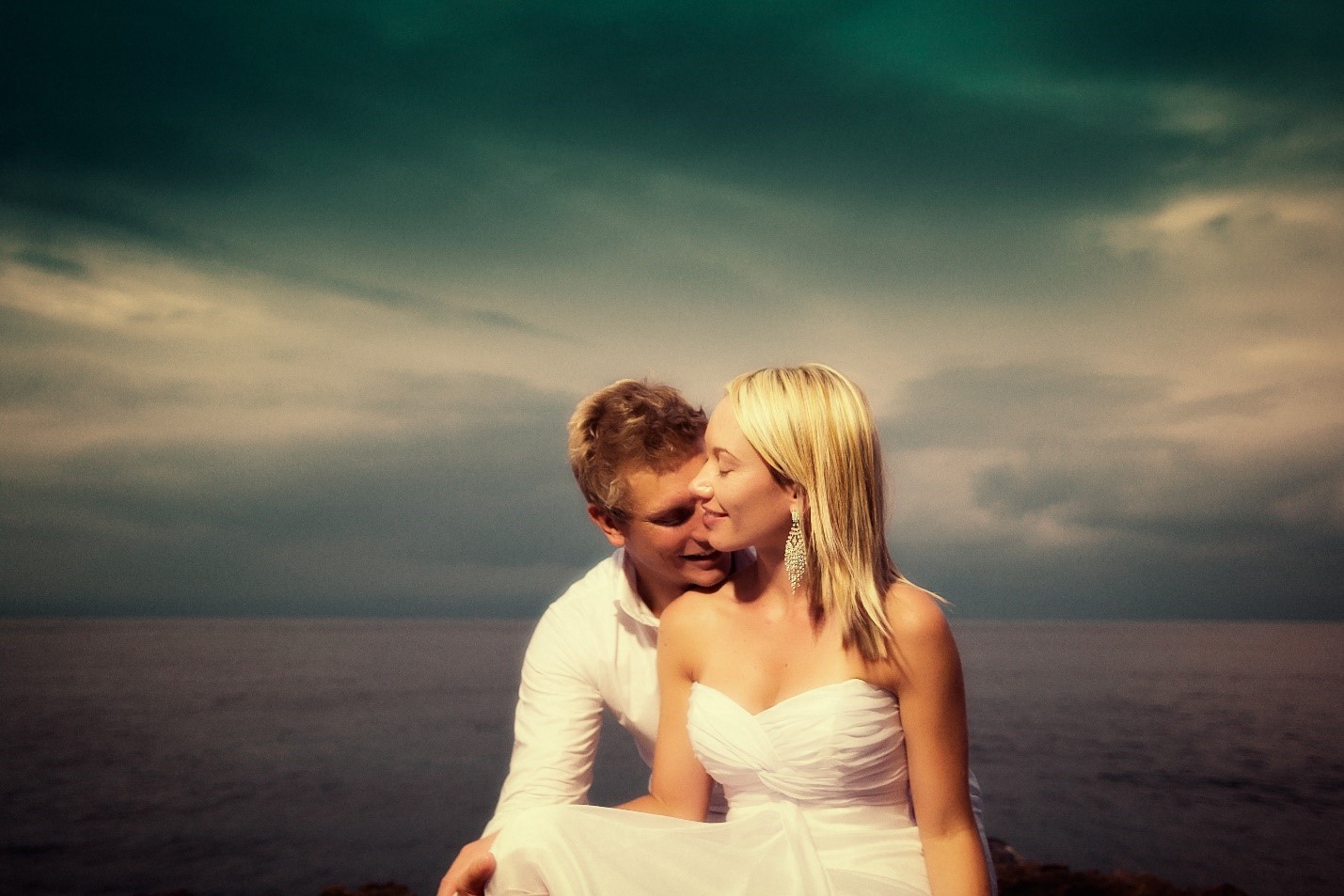 3.  Bali is romantic
Your honeymoon is a time of romance,  and Bali is the ideal place for your most memorable holiday.
What can be more romantic than to discover and explore the island of the gods, as Bali is affectionately known, together with your most loved one?
Endlessly long, deserted beaches invite you for romantic sunset walks. Spectacular rock formations allow the two of you to witness some of the world's best sunsets¦
And there's more. How about indulging in a healthy meal amid the world's most spectacular rice field terraces? Or visiting a tropical spa together? Or how about visiting a local shaman or priest to tell your fortune?
You can also enjoy the honeymoon standard, the romantic candle light dinner. Many restaurants have private areas especially for honeymooners and those who value privacy.
4.  Bali has the perfect climate
Many popular honeymoon destinations around the world are ideal only during a certain period of the year. Not so in Bali, which has an all-year agreeable tropical climate. Unlike other tropical destinations Bali never experiences hurricanes or severe storms.
The temperature rarely drops below 25 degrees Celsius. It never gets super-hot like in other South East Asian destinations. The average temperature is between 25 and 30 degree Celsius. Sweltering heat like 35 degrees or even 40 degrees is unheard of in Bali.
And if you want an even more moderate / cooler climate you can always head up into one of several mountain retreats.
5.  Bali is ideal to make stunning honeymoon photographs
With between 800, 1200 overseas weddings taking place in Bali every month, Bali is the world's second most popular destination wedding destination. As a result, there are some great wedding photographers are available in Bali at unbeatable prices. Even photographers of world-class caliber have set up shop in Bali.
Whether you just want a few snapshots of your honeymoon in Bali, or if your wedding photos did not turn out well or you want to be photographed against the backdrop of Bali's enchanting landscapes, Bali is a paradise for those who want to celebrate their love through photographs.
When you add to this countless, spectacular locations and backdrops, what you get is the world's best destination for honeymoon photographs.
If you want to learn more about honeymoon photography, which is better known as pre-wedding photography see the following article: The Ultimate Guide  to Honeymoon Photography in Bali.
My advice: Stay away from the ultra-cheap offerings, as you may end up with photos which you would not want to show to anyone. Also hire a photographer and not a photo agency. You can discover why at the following article: The Bali Photo Agency Trap.
6.  Bali is a food lovers paradise
If you love the culinary experience, take note – Bali is foodie's paradise.
Besides its own unique and very tasty cuisine, you can find mind-boggling array of food options. Whether you are a meat lover, a seafood lover, a vegetarian, or even vegan, Bali has countless restaurants for every taste.
In addition to Italian, French, Mexican, Thai, Chinese, Indian, Brazilian, German, Vietnamese, Japanese, Korean, Mediterranean, there are even countless variants of Indonesian cuisine, all for your taste buds to explore. From ultra-cheap, tasty road-side food stalls to Micheline star rated restaurants, you all find it in Bali.
My personal favorite though are restaurants that offer the culinary highlights of the various South East Asian cuisines. Be forewarned though: some dishes can get pretty spicy.
And best of all: You get seriously good value for your buck in Bali.
7.  Bali is beautiful beyond belief
When you are looking to honeymoon in a place that is breathtaking and exotic, you can't select a more beautiful place to visit than Bali.
The one thing that made Bali famous in the first place is its natural beauty and the colorful culture of Bali. Beyond that, Bali offers many gorgeous sites and memorable experiences to its visitors.
Bali's rice-fields terraces are legendary and amust-see for everyone.
The island has a great variety of beaches from the super crowded gold-brown beaches of Kuta to miles-long stretches of deserted beaches with black sand and spectacular rock formations.
Witnessing sunrise from atop of one of Bali volcanoes is an unforgettable experience.
And the landscape in Bali is dotted with very beautiful temples of all shapes and sizes.
Last but not least, a visit into the rain forest can be also a very rewarding experience.
All this combined has earned Bali the reputation as one of the most beautiful places on Earth.
8.  Easy to reach, easy to get around
Whether you come from a close-by South East Asian country or via a transcontinental flight Bali is well-connected to all corners of the globe. Most major airlines have flights to Bali, which has a fairly large international airport. It is just a short cab ride from the airport to the most popular tourism centers of Bali, while the road infrastructure is sufficient to let you get around quickly and efficiently.
My advise is: Bring an international driver license, rent a car, and explore the island on your own. A large part of the population in Bali has at least a basic understanding of English and the friendly locals will help you to find your way around.
9.  Bali is safe !!
Many tropical destinations around the world have a safety record that not-so-good, where walking the streets on your own after dark can be dangerous.Not so in Bali. While petty crime certainly exists, Bali is generally a very safe holiday destination.
There are also no major health hazards such as tropical diseases. and eating in Bali is also considered to be safe.
10.  Shopping
Bali is truly a shopper's paradise. Countless shops cater for all tastes and budgets. Whether you are hunting for luxury goods, local handicrafts, or you seek to widen your collection of summer clothes or bring home rare handmade fabrics from indigenous tribes of Indonesia¦ in Bali, you will find it all.
Best of all, Bali offers almost everything at the lowest prices you can find in the world. You may unleash your purchasing power at one of several convenient, large shopping malls or hit one of the countless traditional markets.
I recommend though that you better shop at outlets which have fixed prices, rather than having to bargain and yet still overpay.
If you are a bride, remember – it's your honeymoon and he has to spoil you by all means¦ 😉 So shop ˜till you drop.
Bali Is Indeed Your Perfect Honeymoon Destination
All of the above combined make Bali one of the world's best honeymoon destinations. And there is something for everyone to be found in Bali. Whether you want to explore Bali as a back-packer or indulge in an ultra-splurge luxury honeymoon Bali caters for all budgets.
I hope after reading this you will put Bali on top of your list of your honeymoon options.
And we look forward to welcoming you here on the island of the gods.
Make your dream honeymoon possible with a honeymoon registry from Honeyfund.
Bio: Dominik, the author, is an international, multiple award-winning wedding photographer who has been living in Bali for close to 30 years. He has a passion for working with peopleaand is known for a photography style that looks 100% natural and un-posed. Currently, he guides a team of skilled professional and local photographers who work with wedding clients from around the world to create photos and wedding videos. You can learn more about him on his websites: d-weddings.com and bali-wedding-photo-blog.com.
Dominik's photographs have appeared in many national publications such as Wine & Dine, Hello Bali, Belladonna – The Wedding, Bali BITE, and others.
He was the only international photographer featured in American style guru Susie Coelhoe's Wedding Book: Style Your Dream Wedding. He is also appearing in Australian publications such as: Australian Bridal Magazine, Bridal Options, Holiday for Couples, and others. Photographic assignments have brought Dominik to Perth, Australia, Hong Kong, Malaysia, Singapore, and China.
Dominik is also an accomplished fine-art photographer and has exhibited in Jakarta and Bali. For more information on his fine-art photographs and books please refer to Dominik Photography.