This entry is from our Expert Guest series where wedding and honeymoon professionals share their best tips on creating memories that last a lifetime.
Wedding shoes are a great way for the bride to show off her personality. Whether the gown is classic or modern, the shoes can follow suit or be something totally unexpected!
Fun Wedding Shoes
Here are 10 fun wedding shoe ideas from some of our past brides:
#1.  Glam (Jennifer & Dustin, Mozambique, Hailey Howard Photography)
A bride can never go wrong with a little sparkle. These designer bridal shoes at wedding of Jennifer & Dustin were one of our all-time highest liked photos on Instagram for a reason! Sparkle can be just as neutral as a white or ivory, so a great choice for most gowns.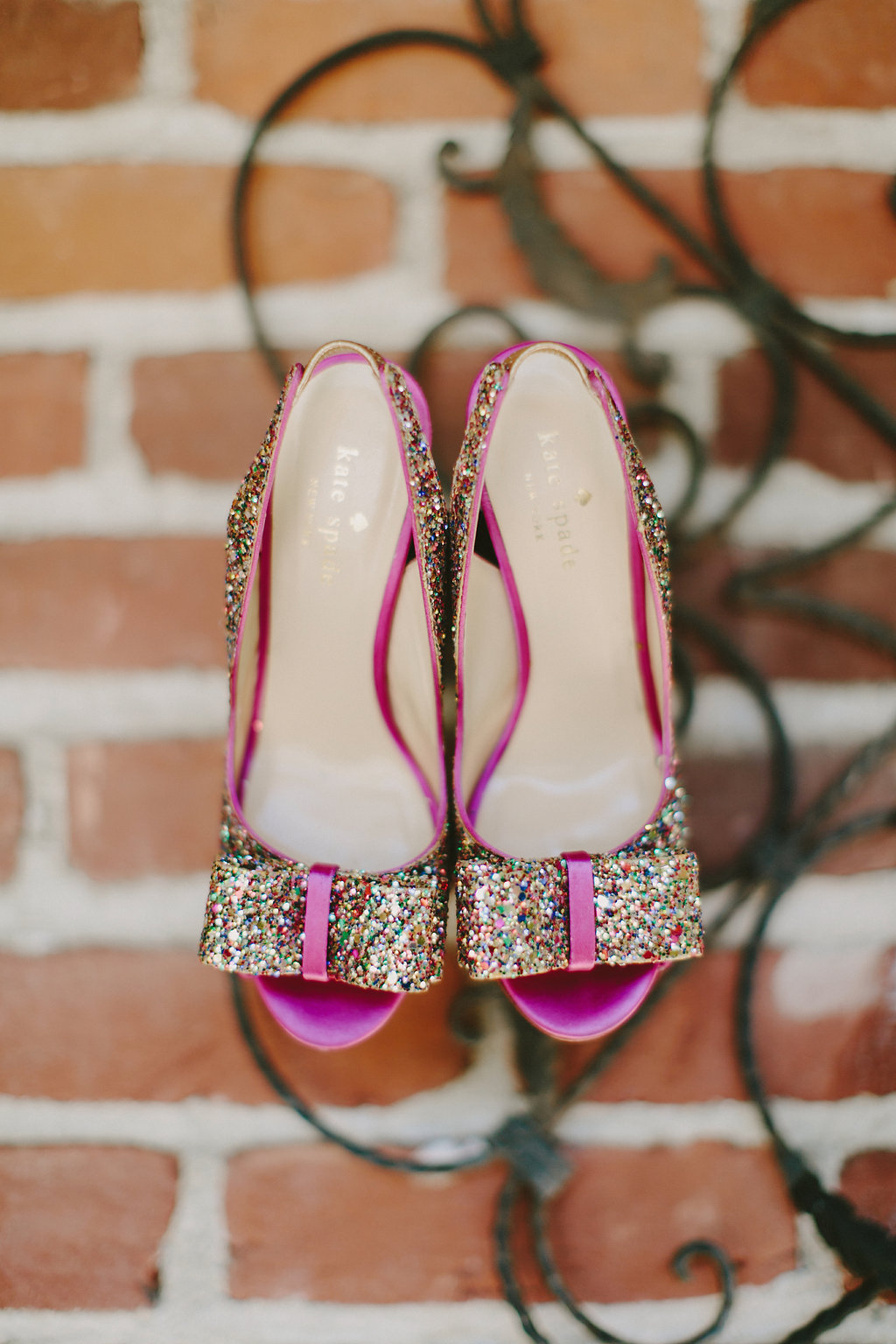 #2.  Pop of Color (Justine & Steven, Franciscan Gardens, Lauren Scotti)
A pop of color is just that- a WOW that peeps out from the bottom of the bride's dress, often times coordinating with the theme colors from the wedding. We just love these sparkly Kate Spades from the wedding of Justine & Steven!
#3.  Classic white (Georgi & Justin, Alcazar Palm Springs, Sargeant Creative)
There's something to be said about a classic white, especially a pair of well-heeled stilettoes from the wedding of Georgi & Justin that make you feel feminine and stand tall!
#4.   Something blue (Kelly & Andrew, Casino San Clemente, Troy Grover Photography)
As the old saying goes, "˜Something old, something new, something borrowed, something blue- brides can choose to wear their something blue as Kelly did at her wedding to Andrew! 
#5.   Fun & funky (Summer & Bryan, Sunstone Winery, Jen Huang Photography)
Similar to a pop of color, this bride Summer had a second pair of shoes for the reception that showed off more of her personality, as well as tied into the color theme of her wedding to Bryan. And there are no rules that say you can't have more than one pair of shoes on your wedding day! 
#6.   Flats (Emily & Jeff, The Clayton on the Park, Leslie D Photography)
As shown at the wedding of Emily and Jeff, flats are perfect for a bride who is close in height to her groom or great for an outdoor ceremony on the grass where high heels aren't easy to walk in without sinking. 

#7.   Designer (Megan and Whit, Parker Palm Springs, Jasmine Star)
If you're in the mood to splurge and your budget permits, why not do it on a fabulous pair of designer shoes for your big day, as shown at the wedding of Megan and White?!
#8.   Go bare (Laura & Star, Sugarman Estate, Maui, Wendy Laurel Photography)
Sand in your toes but not in your shoes. Opt for a pretty floral anklet, sans shoes for a beachy destination ceremony, as Laura did at her wedding to Star.
#9.   Floral print (Sam & Mike, Whetstone Wine Cellars, Leila Brewster Photography)
If your gown is fairly simple, as at the wedding of Sam and Mike, a floral print can be a fun way to accessorize your bridal attire or even coordinate with your floral décor.
#10.   Industrial (Calli & Chris, The Loft on Pine, Aaron Young Photography)
Contrast the pretty dress with a bold pair of shoes to show off your personal style! This particular bride, Calli, was married to Chris in an industrial warehouse venue with black and gold décor, plus needed a little height for her full gown and tall groom! 
Enjoy a wonderful honeymoon with a honeymoon registry from Honeyfund.
Bio: With a dream and entrepreneurial heart to create something that would impact people's lives, Lindsay Val Longacre founded and launched LVL Weddings & Events in 2007. Since its founding, LVL has grown to be one of the most recognized wedding and event planning companies in California with additional locations in Denver, Phoenix, Napa and Hawaii and a team of 20 professional coordinators and planners. 
As a result, LVL has been featured as a premier wedding vendor in many well-respected industry publications and blogs such as: Martha Stewart Weddings, Destination I Do, Ceremony Magazine, The Knot, Your Wedding Day Magazine, Style Me Pretty, Wedding Chicks, Style Me, Grey Likes Weddings, 100 Layer Cake, Green Wedding Shoes, Huffington Post, and the list goes on. LVL has also been awarded Wedding Wire Bride's Choice Award for six consecutive years. 
LVL offers complete full service wedding planning, but also offers a customizable services such as venue searches, wedding coordination, destination planning. Whether you want help from start to finish or jump in at any phase of planning in between. LVL has options for you. For more options, you can visit their website at www.lvlevents.com.