With times changing fast, Bed, Bath & Beyond Registry continues to be a Honeyfund favorite for household items. We're especially loving their newest feature — 'Ship or Swap'.
We've got the lowdown on how it works, but the basic idea is this: When you create your registry and decide to use Ship or Swap, you have even more control over what you receive as gifts.  Read to the end for a special offer for new registry sign ups.
Enable Ship or Swap
First thing's first, once your Bed, Bath & Beyond registry is created, you'll want to navigate to your registry view. From there, click on Edit Registry Settings and scroll down to Ship or Swap.
Here, you'll click Enable.
Registry and Receive Gifts
Before sharing your registry, you'll want to add all the items you'd like. (Don't be afraid to add big-ticket items, the group gift features has you covered.) Here's what couples are loving for some inspiration.
Once you've added your registry items and linked your new Bed Bath & Beyond Registry to your Honeyfund, it's time to sit back and wait. Guests will begin to pick out gifts and go through the purchase process as they normally would.
Gifts Become MyFunds
If the guest chose to ship directly to you when they went through the purchase process, those monies are then loaded directly into your My Funds account. The amount will include applicable discounts, taxes and shipping costs. (Note: Any gift purchased in and carried away from a store, ordered online for store pickup, or ordered online and shipped to an address other than the registrant's is not eligible for Ship or Swap.)
Go Shopping 
This is where the fun comes in. Once the guest has completed the purchase process and the money have been loaded to your My Funds account, you can choose to purchase the gift that the money was originally given for. Or you can use the money towards another gift instead.
Once you've selected which items you'd like to use your My Funds credits on, add to cart and check out whenever you're ready for them to ship. The best thing about My Funds is that they NEVER expire!
You should know that if you decide to opt out of the service after opting in, future gifts will ship directly to you once they're purchased.
Ready? Earn $100 When You Sign Up
Anyone who signs up for a Bed, Bath & Beyond registry between 1/1/2021-3/31/21 is eligble to receive $100 towards their account. Once you've shared your registry with your guests and they purchase more than $500 in gifts, you'll automatically get $100 in your MyFunds. You can track your gift total and your awards here in your account.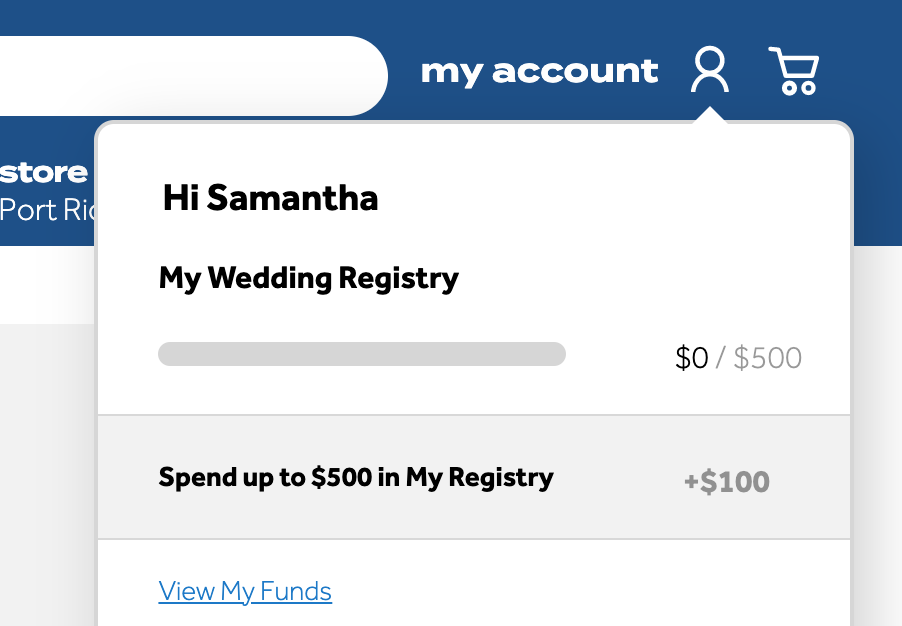 And don't forget to link it to your Honeyfund!