Planning for your Jamaica Honeymoon
You've spent time planning your wedding – including its rewards and stresses – and now it's time for a laid-back Jamaica Honeymoon. This honeymoon destination is for people who seek tropical scenery, an incredible amount of resort options (including all-inclusives, galore) and an English-speaking nation with an ease of arrival to their honeymoon destination.
NOTE: If you and your spouse are the same gender, please see the LGBTQ+ Information below.
Geography and Weather for your Jamaica Honeymoon
What are the most popular areas of Jamaica?
Jamaica is an island surrounded by the Caribbean Sea's aqua blue waters. Its neighboring islands include Cuba, Haiti, the Cayman Islands and the Dominican Republic.
Popular cities you've probably heard of in Jamaica include:
Montego Bay
Ocho Rios
Negril
Kingston (capital city, south coast)
What part of Jamaica is best for couples?
The most popular area for couples in Jamaica is definitely the north side of the island. Montego Bay and Ocho Rios are the most frequently visited parts of Jamaica for couples traveling there for honeymoons. Negril is a close third.
Typical Weather to expect for your Jamaican Honeymoon
Weather in Jamaica is affected by the surrounding waters. Expect it to be windy (even if moderately so most days) and warm.
Temperatures are fairly consistent all year, with an average annual low of 70 degrees and high of 90 degrees Fahrenheit.
This Caribbean country has a rainy season from April to October but Kingston receives less annual rainfall on the southern side of Jamaica because it's sheltered by Jamaica's majestic Blue Mountains.
Jamaica Time Zone
Set your watches to Eastern Standard Time for your Jamaica honeymoon during November to April. Since they do not observe Daylight Savings time, Jamaica will be one hour behind Eastern Daylight Time, in our Central time zone, during daylight savings months of the year, April to November.
(For example, if it's 5:00pm in New York during summer it's 4:00pm in Jamaica. But if it's 5:00pm in NY during winter, it's 5:00pm in Jamaica because it's outside of Daylight Savings.)
Practical Information for your Honeymoon in Jamaica
Vaccinations
A measles vaccination is recommended for those traveling to Jamaica. Additionally, the CDC recommends a Typhoid and Hepatitis A vaccine, which people usually have as part of their routine health care.
COVID Regulations in Jamaica
COVID regulations are something to be aware of if you're honeymooning during COVID.
The CDC recommends not traveling to Jamaica unless necessary.
They know, however, that people will travel there for leisure. Thus, they have guidelines on their website if you plan on traveling there for fun and a laid back vacation, including what areas of the island to look at for accommodations, which they're calling the "Resilient Corridor." This also includes any resilient licensed attractions, as designated by the Jamaica Tourist Board.
Additionally, Jamaica requires proof of a valid COVID test taken within 10 days or less of entry into the nation. They also will test the temperatures of everyone who arrives to the airport wishing to clear customs.
Lastly, all non-residents visiting Jamaica will need to fill out a Travel Authorization form no less than 24 hours, and no more than 5 days prior, to their visit.
LGBTQ+ Information
Homosexuality in Jamaica is illegal and they don't currently support any sort of legal gender recognition, as in the case of people who identify as transgender.
Though there have been outliers who show their pride despite Jamaican Laws, with celebrations for gay rights, it doesn't seem to be the norm in Jamaica. Therefore, we don't recommend Jamaica for gay couples.
Passport and Visa Requirements for a Jamaica Honeymoon
U.S. citizens need a valid passport to travel to Jamaica that is valid at the time of entry and departure. There is no visa requirement unless travelers are staying for more than 90 days.
Language in Jamaica
The official language of Jamaica is English.
Jamaica was under British rule from the 17th century until the 20th century. Likely because of this, they've spoken English on the island for hundreds of years.
Currency
The Jamaican dollar is the official currency of the country, but you don't need foreign cash to purchase things. International credit cards are accepted almost anywhere. It's also common for small businesses to accept US Dollars. If you pay for something in American money, however, be aware you may get Jamaica currency back if change is due.
$150 Jamaican dollars per $1 USD is a good rule of thumb though conversion rates fluctuate.
Travel and Planning information for Your Honeymoon in Jamaica
Activities for a Jamaica Honeymoon
Jamaica is renowned for its beaches and snorkeling. We expect any honeymooners in Jamaica to fully enjoy relaxing on sandy beaches or by their hotel or resort pool. Signing up for adventures on the sea, including snorkeling and fishing excursions, is also popular.
There are great river falls in Jamaica, thanks to the beauty of the landscape.
Here's three of the most frequented:
1. Dunn's River Falls and Park in Ocho Rios
2. Blue Hole in Ocho Rios
3. YS Falls on Jamaica's south coast (you can zipline over the river falls here)
If you've ever dreamed of riding horses on the beach there are plenty of companies in Jamaica that can make that dream come true.
You can also take a cultural walking tour on the south coast in Kingston, or Montego Bay on the north coast, to learn more about the history and people in Jamaica.
Reggae music was born in Jamaica and there's a Bob Marley museum in Kingston that will delight fans.



How to Travel to Your Jamaica Honeymoon

Airports in Jamaica

There are three main airports in Jamaica and which one you travel to may be dependent upon your final destination for your honeymoon in Jamaica.

The three airports, their airport codes, and their corresponding locations are:

Sangster International Airport (MBJ), in Montego Bay (northwest area of the island)
Norman Manley International Airport (NMIA), in Kingston (south side of the island)
Ian Fleming International Airport (IFIA), in Ocho Rios (north central area of the island)

It's unlikely you'll find any commercial flights into Ian Fleming International Airport as it's primarily used for private planes.

Sangster International Airport, located in Montego Bay, is probably your best bet if you're traveling to resorts in Montego Bay, Ocho Rios, or Negril for your honeymoon in Jamaica. This is the most popular airport in Jamaica for tourists and will provide you with the most options overall, including lounges and transportation to get between the airport and any of the honeymoon resorts on the island.

Flight prices to Jamaica should be considered when asking how much a honeymoon in Jamaica costs

Expect to pay between $300 to $600 per person, roundtrip, to travel to Jamaica from the United States.

Peak season is the winter when a lot of people who live in North America want to escape the cold for a Caribbean climate.

Costs vary depending on where you stay, length of your stay and quality of the resort. It's possible to spend $2,000 on a resort for 10 nights or $12,000 for six.

If you go during an off season you may be able to take advantage of specials not offered during peak season (which is usually during American winter.)

Ground Transportation from an International Airport to Your Honeymoon Destination in Jamaica

Ask your hotel or resort in Jamaica about ground transportation to reach them from the airport – whether in Montego Bay or Kingston – because they likely have companies they partner with for pre-arranged services.

There's also a taxi desk outside the most popular airport for tourists, MBJ airport, with two authorized cab companies: one is JUTA Taxi and the other is JCAL Taxi. They both provide transportation to and from excursions and between hotels as well in addition to airport transfers. (Note that hiring a taxi will be a more expensive option than pre-arranged transportation services.)

You're also able to rent a car at MBJ airport and Kingston's NMIA airport from notable companies, including Hertz, Enterprise and Avis. A valid US Driver's License will work in Jamaica for the duration of your vacation.

Jamaica Honeymoon Resorts and Hotels

You'll have plenty of options to choose from for your Jamaica honeymoon in terms of hotels and resorts.

Sandals offers wonderful all-inclusive resorts. We're proud to partner with Sandals to bring you great prices and deals and a honeymoon package (or two, or three). They are particularly wonderful at tailoring Jamaica resorts for couples looking for romance travel.

They currently have six Sandals resorts to choose from in Jamaica:
1. Negril's Seven-Mile Beach
2. Ochi Beach Resort
3. South Coast
4. Royal Caribbean
5. Montego Bay
6. Royal Plantation
We also suggest researching Montego Bay's best resorts through Booking.com and Hilton resorts in Jamaica directly through their site. Inclusive resorts are plentiful and you won't have a hard time finding the best resort for your honeymoon.
Some of the Jamaican accommodations offer time at luxurious lounges at the airport.
After you clear customs you can enjoy the lounge of the following hotels and resorts at the Sangster International Airport (MBJ) airport until transportation is ready to take you to your honeymoon resort in Jamaica:
Sandals
Half Moon
Couples Resorts
Hyatt Zilara/Ziva
Club Mobay
Some things to look forward to at inclusive resorts that offer a honeymoon package are:
Free nights
Included golf
Unlimited premium liquors
Fitness center access
Unlimited water sports
Depending on the time of year, you may also be able to find overall discount rates for your Jamaica honeymoon, like 30% off your resort total or a percentage off honeymoon packages. Occasionally, spa treatments may be included, which we think would be one of the best, luxury perks at a resort!
Enjoy Some Local Cuisine during your Honeymoon in Jamaica
Jamaica has flavorful Caribbean cuisine that is full of great spices!
The island is renowned for jerk cuisine. It's a style of cooking invented in the 17th century that combines sweet and savory flavors with woody aromatics because of the way it's prepared. (Jerk is sometimes spicy in terms of heat, sometimes not.)
If you're a vegetarian you'll be in good company in Jamaica. "Ital cuisine" was created by the Rastafarian people and celebrates fruits and vegetables, with low salt and no meat.
Don't leave the country without trying a Jamaican patty, which you may find at Jamaican restaurants in the United States too. They're half-moon shaped pastries (similar to Spanish empanadas) and are usually filled with savory ingredients.
Red Stripe is the most popular local beer that you'll see wherever you travel.
Drinking bottled water in Jamaica is the safest bet for your digestive system and health.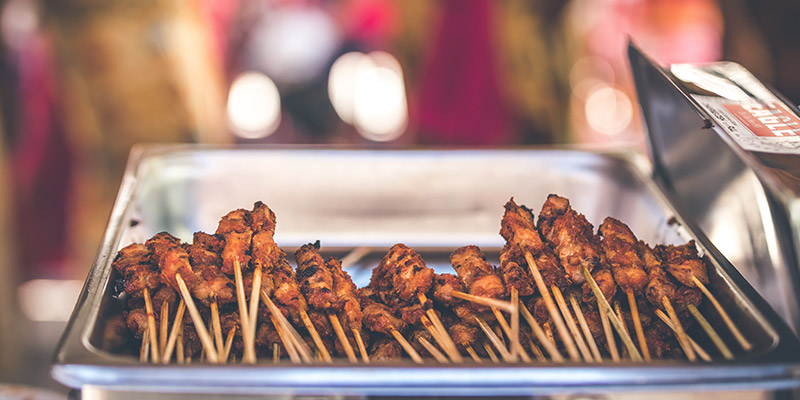 Note: If you purchase through this e-mail, Honeyfund may earn a commission. You will not pay more when buying a product through this link. In fact, Honeyfund works hard to make many recommended products and services available at LOWER rates. We ONLY recommend products and ideas we use and love ourselves.