LGBTQ-Friendly Honeymoon Destinations 
Planning a honeymoon is an exciting task that marks the start of a new chapter in your love story. But for LGBTQ+ couples, finding the perfect place to celebrate your union involves a mix of excitement and careful thought. In recent years, the world has been making big strides towards LGBTQ+ rights and acceptance, which means there are now plenty of  honeymoon spots that are open and welcoming. These are the kind of places where you can kick back, relax, and feel totally comfortable being yourselves. From beautiful beaches to vibrant cities, we're here to share with you ten fantastic LGBTQ+ inclusive honeymoon destinations. These spots aren't just about their amazing views; they're about creating memories that honor love in all its forms.
Curaçao 
The Caribbean has a mix of destinations that are becoming more LGBTQ+ inclusive. But while many Caribbean islands are becoming more accepting, some areas might still have conservative attitudes. If you've always wanted to honeymoon in the Caribbean ,we highly recommend Curacao. A tropical oasis nestled in the Dutch Caribbean, Curaçao has emerged as a shining example of LGBTQ+ inclusivity. With its pastel-hued architecture and turquoise waters, this island paradise invites LGBTQ+ couples seeking both relaxation and celebration. From vibrant LGBTQ+ events like the annual Curaçao Pride to gay-friendly resorts, Curaçao provides a warm embrace where love is celebrated without hesitation. The inviting Blue Bay Beach is a favorite among LGBTQ+ travelers, offering a space where couples can unwind in a welcoming atmosphere.
Cape Town, South Africa:
Cape Town, a city renowned for its breathtaking landscapes and cultural diversity, is also a hot-spot for LGBTQ+ travelers. South Africa's progressive LGBTQ+ laws extend to Cape Town, where LGBTQ+ neighborhoods like De Waterkant offer a vibrant blend of acceptance and celebration. Amidst Table Mountain's backdrop, couples can immerse themselves in a world where LGBTQ+ rights are proudly upheld. The city hosts the annual Cape Town Pride parade and festival, a colorful display of unity and love that resonates throughout the city.
Buenos Aires, Argentina
 Argentina became the first country in Latin America to legalize same-sex marriage in 2010, solidifying its commitment to LGBTQ+ rights. The capital city of Buenos Aires pulsates with LGBTQ+ energy, from the bustling nightlife of Palermo Soho to the iconic Homo Monument. LGBTQ+-owned businesses and venues, such as the legendary bars and clubs in Palermo Soho, paint the city with hues of acceptance and celebration. Buenos Aires is often referred to as the "Paris of South America," known for its rich cultural heritage and dynamic arts scene.
Phuket, Thailand 
Located in beautiful Thailand, Phuket's Patong Beach has emerged as a vibrant hub of LGBTQ+ inclusivity. Here, couples can indulge in the vibrant nightlife, find comfort in LGBTQ+-friendly accommodations, and immerse themselves in the annual Phuket Pride festival that underlines Thailand's growing support for the LGBTQ+ community. LGBTQ+ travelers can feel at home at the well-known Boat Bar, a beloved establishment within Patong Beach's LGBTQ+ scene. Phuket is renowned for its stunning natural beauty, including clear waters, lush landscapes, and vibrant local markets.
Puerto Rico
The allure of San Juan, Puerto Rico's capital, extends beyond its pristine beaches. San Juan's Condado neighborhood is a hub of LGBTQ+ acceptance, where couples can find LGBTQ+ friendly hotels, beachside celebrations.. LGBTQ+ couples can bask in the sun on the Condado Beach, an LGBTQ+ friendly beach area offering a safe and inclusive atmosphere. Puerto Rico's rich history is reflected in its blend of Spanish and American cultures, visible in its historic architecture and vibrant festivals.
Amsterdam, Netherlands
Netherlands has been a trailblazer in LGBTQ+ rights, becoming the first country in the world to legalize same-sex marriage in 2001. LGBTQ+ couples can explore LGBTQ+ friendly venues like bars and clubs along the iconic Reguliersdwarsstraat, experiencing Amsterdam's legendary inclusive nightlife. Amsterdam is famous for its picturesque canals, historic architecture, and world-class museums, including the Van Gogh Museum and Anne Frank House.
Puerto Vallarta, Mexico
Puerto Vallarta's Zona Romántica radiates LGBTQ+ acceptance, where cobblestone streets are lined with LGBTQ+-owned establishments. You can find several gay-friendly hotels and clubs in Puerto Vallarta, but the Almar Resort stands out as the sole luxury LGBTQ+ beachfront haven. With spacious rooms in low- and high-rise buildings, newlyweds enjoy direct access to the LGTBQ+-friendly Los Muertos beach.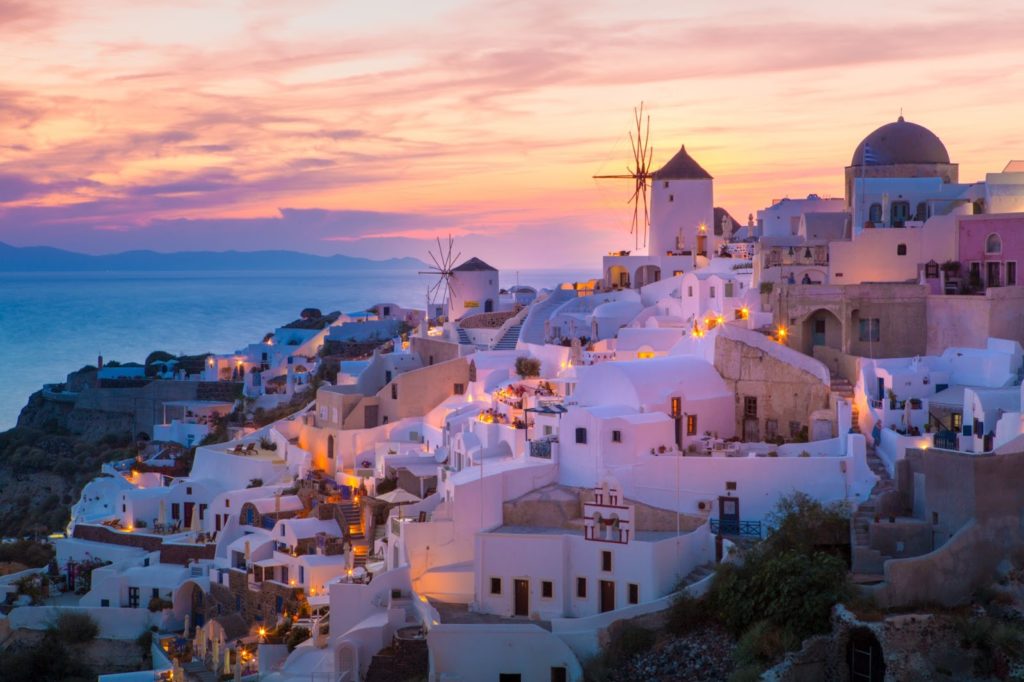 Mykonos, Greece 
Mykonos stands as a Mediterranean gem, known for its LGBTQ+ friendly beaches like Elia Beach and the dynamic Chora area that together create an atmosphere of acceptance. Amidst the Cyclades' allure, Mykonos offers LGBTQ+ couples a picturesque setting for their love story. Embracing the inviting ambiance of Elia Beach, renowned for its LGBTQ+ inclusivity, LGBTQ+ travelers find a genuine haven. Beyond its welcoming shores, Mykonos boasts a bustling nightlife and a fascinating blend of ancient history and modern flair.
Reykjavik, Iceland
Iceland's sweeping landscapes and LGBTQ+ inclusivity converge in Reykjavik. While iconic LGBTQ+ spots like the renowned Kiki Queer Bar attract visitors, Reykjavik's LGBTQ+ scene extends to diverse clubs, bars, and events that celebrate all facets of the community. Amidst this lively atmosphere, LGBTQ+ travelers can savor authentic connections and cultural exchange. The city's embrace of diversity, coupled with its stunning natural wonders, promises a one-of-a-kind experience that resonates long after the journey ends.
Provincetown, Massachusetts, USA
Provincetown wears its rich LGBTQ+ history with pride. If you're LGBTQ+ and wandering through, take a leisurely stroll along Commercial Street,  the bustling heart of Provincetown's LGBTQ+ scene. You'll find it decked with LGBTQ+-owned businesses, galleries, and cool hangouts. The town lights up during epic events like Provincetown Carnival, a whole week where LGBTQ+ culture and pride take the spotlight. And it's not just about inclusivity, Provincetown has a knack for attracting writers, artists, and performers thanks to its coastal charm. 
Co-authored by ChatGPT.