Stand Out from the Crowd: Creative Wedding Guest Dress Codes
Forget black tie and semi-formal dress codes, we're sharing 10 out-of-the-box wedding guest attire themes to consider.
Your wedding day is a declaration of your love —and an expression of your personality! We believe that each couple's wedding should be marked by all of the things that make them unique, from the food to the venue to the attire. If you want your day to stand out from the rest, consider getting your guests involved and giving them some direction on what to wear to your event! 
Choosing a wedding guest dress code will add the perfect touch of uniqueness and fun to your big day. It gives your guests an opportunity to get creative with their outfits and show their love and support in a creative way. Make sure to convey your dress code to guests and provide clear guidelines on what is appropriate attire for the event so they can dress accordingly. This can minimize questions from guests and actually make them feel more at ease if they know what is appropriate and expected. Including information about your venue and dress code on your Honeyfund page can be really helpful for guests!
Vintage Glam
If you're dreaming of a wedding day inspired by Old Hollywood or the Great Gatsby, encourage your guests to wear glamorous, vintage-inspired attire. Think of how great your photos will be when all of your guests are dressed in flapper dresses, bow ties or fedoras! This attire will be the perfect complement to your Art Deco wedding website theme and other vintage elements you incorporate into your decor like antique furniture or old-fashioned centerpieces.
Beach Chic
No one wants to be stuck in an uncomfortable suit or dress at a beach wedding. To fit the location—and weather—invite your guests to dress for the occasion by wearing a beach-chic outfit. Guests can opt for lighter clothing like linen suits, flowy sundresses, and sandals to fit the tropical vibe.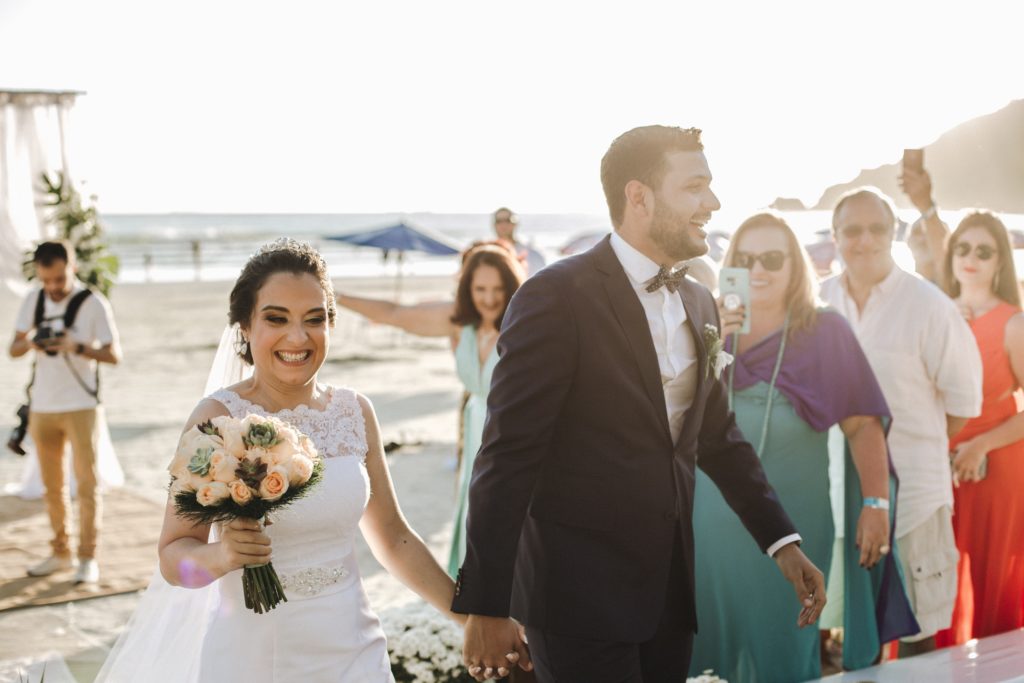 Black and White
For a timeless and cohesive look, black and white-only attire at a wedding is the perfect choice. It's likely that the bride-to-be will wear white, so it's best that your guests opt for black or black and white attire that won't compete with her dress. Another fun take on this theme is where the guests wear black and white, and the couple stuns in color! 
Floral Frenzy 
If bold and colorful is your wedding vibe, consider a floral frenzy theme for your guests! Their attire will only add to the cheerful and vibrant atmosphere of your wedding day. Expect to see plenty of floral prints, and possibly coordinating accessories like flower crowns or statement earrings. Floral dress shirts and pocket squares are likely to be common among the men in attendance who decide to embrace the theme.
Bohemian Rhapsody
Eclectic couples whose wedding style is relaxed and bohemian-inspired might choose to invite guests to wear bohemian attire to their celebration. Encourage guests to wear flowy garments, fringe, and earthy towns. This attire theme will allow your guests to express their creativity and free spirit, and will bring your boho vision to life.
Costume Couture
Did you know that the most popular month for Honeyfund couples to get married is October? If you're planning a Halloween wedding, we couldn't think of a more fitting time to use a costume couture theme! This theme can be a fun and creative way to celebrate the holiday while still maintaining the elegance and sophistication of a wedding. Think "elegant witch" instead of full-on halloween costumes. Include some inspo on your wedding websites or select a niche costume theme, like Marvel or Disney, depending on your interests.
Garden Party
For an outdoor wedding, especially one that's in the spring or summer, consider garden party attire for your guests. This semi-formal dress code is often up for interpretation, but usually references flowy and light clothing, floral patterns, and pastels. The attire should be dressy enough to reflect the occasion, but comfortable enough to let guests enjoy the outdoor setting of the event. 
Rustic Charm
Farmhouse and barn wedding venues are increasing in popularity, so your guests will find it helpful to know what to wear to weddings like this.  For a rustic charm dress code, encourage guests to wear clothing with a country feel–break out the cowboy boots, plaid shirts and denim jackets! The key to this dress code is to embrace the relaxed aesthetic while still looking polished and put together.
Masquerade Ball
For an unforgettable formal wedding, choose a masquerade theme for your guests.This dress code is fairly straightforward—guests should choose formal evening wear like a tuxedo or a gown, and complete their look with a decorative mask! The masks will allow guests to convey their own personal style, while still complementing the overall theme of the wedding. Consider having a few simple masks available for guests who may have forgotten theirs so they can still participate in the fun! 
All That Glitters
Cue the sequins! This glamorous dress code will be highly instagrammable and definitely unforgettable. This wedding guest attire theme centered around sparkle, shimmer and shine. Guests should wear clothing and accessories with a noticeable glittery element to them to deliver on this look. If you're going all-in on glitter, consider using the "disco" design theme for our Honeyfund page!