This entry is from our Expert Guest series where wedding and honeymoon professionals share their best tips on creating memories that last a lifetime. 
A colorful wedding. Are you having one? Do you want to incorporate color into your wedding without it looking like a unicorn exploded all over your celebration? Yep, I often hear that from my design clients. You really love color and want your party to look colorful without it looking like a rainbow. Sophisticated and classy amounts of color create a cheerful environment that instantly makes everyone happy.
In the last five years designing the most joyful of beautiful weddings, I've learned how to incorporate the perfect amount of color to make your tablescape look colorful but not gaudy.
10 Ways to Create a Colorful Tablescape
Here are my top 10 tips for ways to create a colorful tablescape: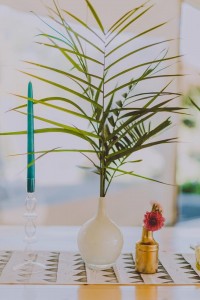 Tip 1: Use color in unexpected places, like on the candles
Taper candles are traditionally white, although here I used pretty aqua tapers to bring a color onto the tables that is hard to find in flowers. Good colors for taper candles are: gray, teal, black, tan, and seafoam.
Tip 2: Use fabrics to liven up a white tablecloth
These custom made table toppers were designed especially for this wedding, although you can borrow the idea with any store bought fabric that is in a fun, bright, color. Extra points for an interesting pattern. When you top your table with a colorful fabric, keep the flowers in coordinating hues or monochromatic to keep the look cohesive.
Tip 3: Bud vases, bud vases, bud vases
Say hello to my best friend, bud vases. Filled with a stem or two of a beautiful, bright, flower, bud vases are an inexpensive way to add a pop of color to any tablescape.
Tip 4: Upgrade those glasses
For a few extra bucks, ask your caterer to upgrade the standard drinking glasses to colored ones. Here I did purple goblets for this whimsical celebration. Don't they instantly make the tables look that much more beautiful and interesting?
Tip 5: Go non-floral
When you have centerpieces that aren't held to the traditional colors found in nature, you can get creative and use unexpected colors like the big teal balloons and seafoam honeycombs I designed here.

Tip 6:  Jazz up a basic linen with some paint
Are you crafty? Then this tip is for you. Basic white runners can be made to match your color palette by adding a few stripes of acrylic paint. So easy. You can thank me later.
Tip 7:  Colored votive candle holders
Do you feel like your centerpieces need that fun color pop to make them truly look colorful? Consider using colored glass votive holders instead of clear ones.
Tip 8: Use only one flower type in one color
For a very modern, contemporary style, use one flower type in one color. This creates a bold, colorblocked look along the length of your tables. Much how I did here with the orange protea in yellow glass vases, the bright hue makes a fun tablescape.
Tip 9:  Ombre placemats create a colorful place setting
This about the whole table, not just what's in the center, when designing your tablescapes. These Michelle Edgemont Shop Ombre placemats are a great way to bring color to the place settings at your reception tables while continuing to use the basic white rentals that are included in your catering package.
This custom-made felt runner brought this table from blah to showstopping. The colors mirror the ones used in the centerpiece, which makes the design look cohesive and not overwhelming.
After the wedding escape to Paradise with a  honeymoon registry from Honeyfund.
Bio: The Michelle Edgemont brand believes in a community that inspires, supports, and applauds all couples who are promising their lives to each other through bold, beautiful celebrations. Launched in 2011, NYC (specifically Brooklyn) is my home base. As an event designer, florist, and prop stylist, I've been quoted in the NYTimes and the best-selling book, A Practical Wedding, and featured multiple times on Style Me Pretty, Green Wedding Shoes, Wedding Chicks, and HGTV. The Michelle Edgemont Shop, full of modern, colorful event decor that I'm known for, is now open!  
I believe that weddings and celebrations don't have to be traditional. Yours will be memorably impactful & filled with pops of individuality. I have a deeply rooted understanding that personal celebrations are an opportunity to unleash bold creativity. Throw conventionality out the window! This is a place where your ideas are applauded. I wholeheartedly believe in aesthetics that are described by unconventional beauty, whimsy, and soul. I recommend that you pair smart styling with intentional event decor by investing in statement pieces. When all of these elements come together on your wedding day, you'll have a celebration that not only tastefully and artistically reflects you as a couple (down to your humorous quirks!) but serves as a beautiful foundation for a lasting marriage. For more information, see our website.