This entry is from our Expert Guest series where wedding and honeymoon professionals share their best tips on creating memories that last a lifetime.
Are you planning your own wedding?
Don't forget your wheels! Wedding cars are as ubiquitous as the three-layered cake couples share on the big day. Which is why you shouldn't delegate the task or wait to the last minute to have one squared away.
You wouldn't want to roll into your dream wedding in a Ford Pinto now, would you?
Ride In Style On Your Wedding Day
Here's a short guide on how to choose the right wedding car. This is a general guide that will work for other people's weddings, too. Make sure you lend a helping hand by sharing!
Start Searching Early
Whether you are getting a car for yourself or choosing one for an event, the planning should always start way ahead of the time. Before heading out on foot, go online and scour the internet for wedding car hires in your area. The earlier you search for a vehicle, the better your chances are of getting some nice wheels. Try to book a car for one month in advance to avoid any scheduling conflicts. There should be plenty of listings, but you should only aim for the ones with actual reviews and testimonials to make sure you're hiring a car within the lemon laws.  
Social media, friends, family, and contacts can play a crucial part during your search. Make a list of all potential wedding car services in the area and choose the top five. Call and set up a visit so you can inspect the vehicle yourself.
Time For A Ride
After narrowing down your search, it's time for you to go to the garage and inspect the wedding car. Check the car history report and any signs of neglect. The last thing you need is a dirty and smelly interior or the car breaking down on your wedding day!
A vehicle inspection is also the perfect time for you to make some measurements. If you're a bride, make sure the car has enough room for your wedding gown AND the groom! Exotic sports cars are great, and all, but aren't really wedding friendly.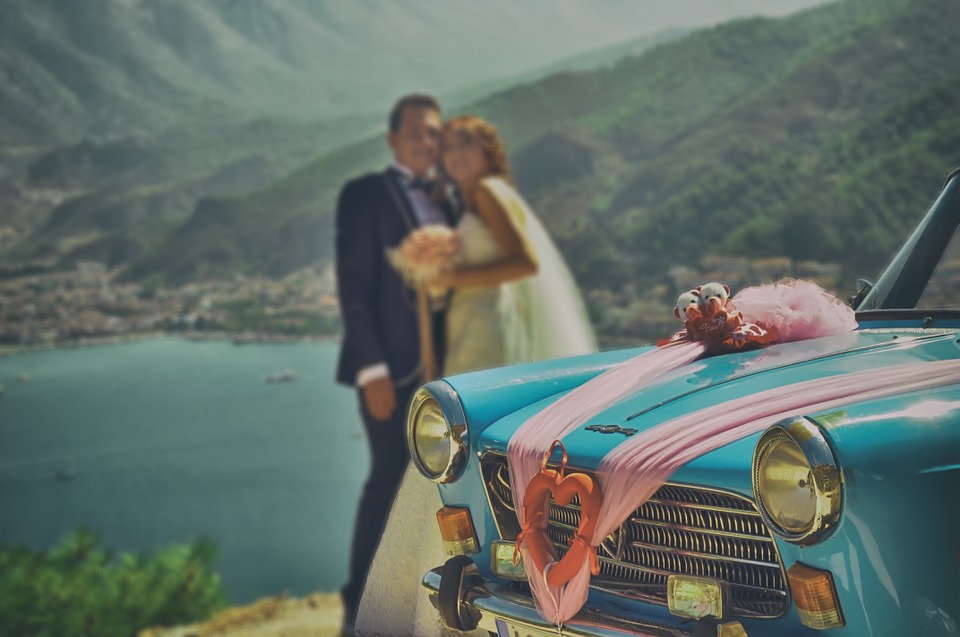 Your Theme
Does your wedding have a theme? Make sure the wedding car you choose matches your theme. Vintage cars go well with a retro-style wedding for example, and ATV's have a place in beach weddings. Most car hire services will offer you different options depending on the scenario. Choose the best one that fits you.
Your Style, Your Car
If you love the quirkiness of the VW Beetle and think it matches your style, then go for it! Cars reflect our style more often than we'd care to admit, and your wedding is the perfect day to choose a vehicle that you can identify with. Rent the wedding car of your dreams, because after marriage changes everything, you won't be able to!
Keep It Local
When looking for a bridal car, you should choose local companies first. The drivers are local, and they would know everything about the area. The drivers have inside info on beautiful locations for photos, places to avoid and the fastest route from the church to the reception.
Renting a wedding car from a local service is also cheaper because fuel won't be much of a concern. You only go for a car hire that's out of state if all the local services are booked on your wedding day, or if you have your heart set on a specific car brand. Australians are fans of gambling, in particular slots, which are presented in a wide variety today. There are many reasons to play pokies online in Australia. First of all, it's fun because the developers use interesting and original stories. Another reason is the ability to win real money. Online pokies have fixed payouts and progressive jackpots that motivate players to bet. Finally, it's cheap. Old-school slots, as well as modern pokies , have a wide range of bets that satisfy the needs of both newbies and high rollers. All you need to do is choose a suitable game in 777Pokies Casino, make a bet.
Read the Fine Print
Make sure to read the rental agreement and ask questions. Now is the perfect time to ask what other services come with the car, such as a chauffeur, champagne, decorations, and rental duration. Knowing the facts early on will give you enough time to look for a driver or decorate the vehicle.
Now that you have a wedding car booked, fueled and ready, it's high time you found a willing dance partner! Stop stressing about it. Go out there and get one!
Help finance your wedding costs with a Honeyfund honeymoon registry.
Bio: Sophia Moore is a passionate writer and a blogger leading her own blog at awebtoknow.com. She started freelancing as a way to connect to other people, to reach to their hearts and make a difference with through words. The blog was born out of a pure desire to connect. To have the freedom of writing what really matters, what actually makes a difference.