Unique Wedding Day Accessories to Elevate Your Style
Your wedding day is a special opportunity to blend you and your partner's personal styles, while incorporating meaningful details that reflect your unique identity as a couple. While classic wedding elements like veils, jewelry, and cufflinks are timeless, adding a touch of individuality to your special day can make it even more memorable. In this blog post, we'll explore a few unique wedding day accessories to make your big day stand out among the rest. 
HEYDUDES: The Perfect Non-Traditional Wedding Shoe
Your wedding day footwear doesn't need to be an uncomfy, traditional pair of formal shoes, especially if heels or formal dress shoes aren't your usual choice. Brides and Grooms alike have started to step away from tradition in the past few years by prioritizing comfort over tradition. One brand that has been extremely popular among wedding parties is HEYDUDE. 
HEYDUDE shoes offer a stylish and comfortable alternative for brides and grooms looking to feel as good as they look on their special day.  Their diverse range of lightweight shoes features a plush foam insole, ensuring a foot-hugging feel. Whether you choose the timeless Wally, the elegant Wendy, or any other style from their Wedding Collection, HEYDUDE shoes are the perfect accessory to effortlessly enhance your wedding attire while ensuring your comfort throughout the day, from the walk down the aisle to the dance floor. 
Image courtesy of Etsy
Pocket Boutonnieres
Ditch the standard boutonniere (and tricky and painful pins!) and explore pocket boutonnieres. These creative lapel accents add a touch of personality and charm to your wedding attire. From succulent arrangements to feathered designs, pocket boutonnieres offer a fresh twist on tradition, giving the suit-wearing members of your wedding party or special wedding guests of honor a unique way to showcase their individual style. Make a statement with these miniature works of art that reflect your personality and wedding theme.
Image courtesy of Rock My Wedding
Customized Sunglasses
If you're having an outdoor or beach wedding, customized sunglasses can be a fun and practical accessory. Have your names, wedding date, or a special message printed on the arms of the sunglasses. Not only will they protect your eyes from the sun, but they'll also make for fantastic photo opportunities and memorable wedding favors for your guests.
Image courtesy of Artifact Uprising 
Personalized Vow Books
Vows are at the heart of your wedding ceremony, and personalized vow books add a sentimental touch. Choose beautifully designed vow books that match your wedding theme and have your names or initials engraved on the cover. They'll become cherished keepsakes after your special day.
Image courtesy of Kamila Novak Photography
Embroidered Veils
In the world of wedding fashion, a fresh trend is redefining the traditional white veil. Brides are increasingly opting for personalized and embroidered veils, adding a unique touch to their bridal ensemble. These embellished accessories can feature initials, meaningful quotes, symbols, or song lyrics, creating a distinctive and meaningful statement. Embroidered veils offer a modern twist to the classic wedding look, allowing couples to weave their own love stories into their accessories.
Image courtesy of Etsy
Customized Cufflinks
While cufflinks are a common wedding accessory, you can make them unique by customizing them. Engrave your wedding date, initials, or a special message on your cufflinks. This personal touch will make them a cherished part of your wedding day ensemble and will be a nostalgic reminder the next event you wear them to.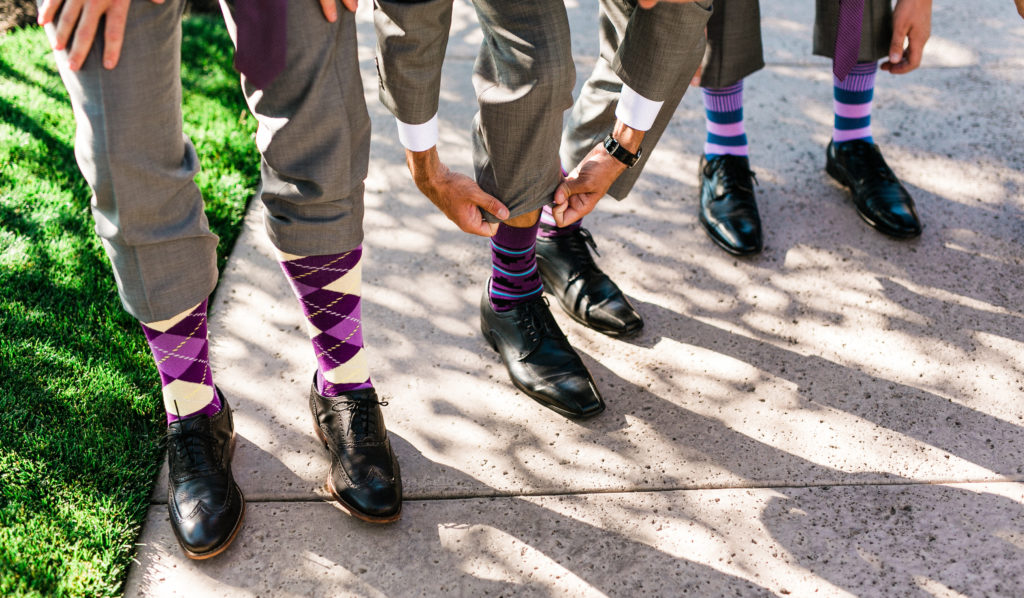 Funky Socks
For a playful and unexpected twist on traditional footwear, consider funky socks. Whether you're the bride or groom, wearing colorful, patterned, or themed socks can add a pop of personality to your outfit. This accessory is particularly fun for capturing unique and quirky photos that showcase your individuality and sense of humor.
Image courtesy of Anthropolgie
Bridal Gloves with a Twist
Instead of traditional lace gloves, opt for bridal gloves with a twist. Consider fingerless gloves adorned with delicate beading, sequins, or embroidery for a touch of glamor and modernity. These gloves can be customized to match your wedding gown's design, and they add a hint of vintage charm to your overall look
Your wedding day is the perfect opportunity to express your and your partners'  style through unique accessories. HEYDUDE shoes, a non-traditional yet fashionable shoe alternative, stands out as our top choice to kickstart your journey toward a distinctive wedding look, while prioritizing comfort on your special day. From personalized vow books to customized cufflinks, there are countless ways to infuse your personality into your wedding attire. Embrace these unique wedding day accessories to create unforgettable memories that reflect your one-of-a-kind love story.