Disclosure: Some of the links below are affiliate links, meaning that at no additional cost to you, Honeyfund will receive a commission if you click through and make a purchase.
The Ultimate Puerto Vallarta Honeymoon Itinerary for a Relaxing Getaway
A honeymoon is the time to unwind, celebrate your love, and make everlasting memories as you begin married life together. One of the best ways to ensure a stress-free and dreamy getaway is choosing the perfect destination and resort. The Hilton Vallarta Riviera All-Inclusive Resort is an exceptional all-inclusive property that offers the perfect blend of luxury, comfort, and serenity. Located on the stunning Banderas Bay in Puerto Vallarta, Mexico, this slice of paradise is the perfect backdrop for your honeymoon.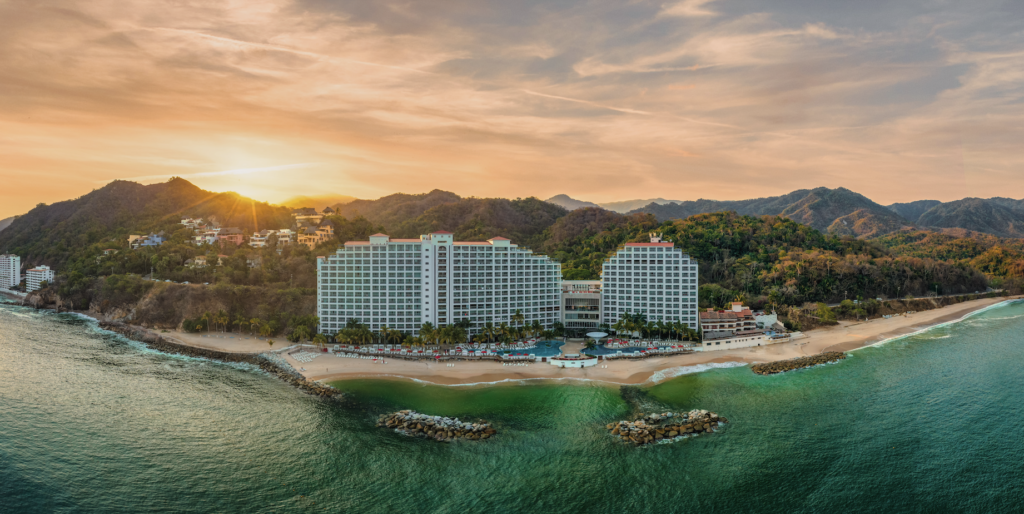 Hilton Puerto Vallarta Resort
Tucked away in the captivating landscapes of Puerto Vallarta, Mexico, the Hilton Vallarta Riviera All-Inclusive Resort offers an intimate setting for couples who wish to escape into a tropical paradise. With its all-inclusive perks, contemporary design, and unmatched hospitality, you can expect to have all your needs met from the moment you arrive.
Location
Nestled along Mexico's Pacific coast, the resort is conveniently located just a short drive from Puerto Vallarta International Airport. Whether you're in the mood for a tranquil beach setting or bustling local markets and nightlife, the Hilton's strategic location means you're never too far away from adventure — or from relaxation.
Accommodations
For couples seeking an elevated experience, consider booking one of the Enclave Rooms. These top-notch rooms and suites offer an extra layer of luxury and privacy, perfect for honeymooners. You'll enjoy a private check-in and checkout experience, ensuring a seamless start to your stay.
As you enter your Enclave Room, you'll find  an in-room welcome amenity, and even a souvenir beach bag to use during your stay. Enjoy dedicated concierge services to make your stay hassle-free, and get exclusive access to a private lounge. Located on the top floor of the hotel, this lounge is exclusive to Enclave guests, and provides stunning views of the ocean, and food and beverages for guests.  With plush interiors,  unbeatable views, and personalized service the Enclave Rooms will make your romantic getaway truly unforgettable.
Choose from a variety of other luxurious suites designed for both intimacy and ultimate comfort. Some suites offer ocean views, while others provide private pools and terrace areas — ideal for watching the sunsets together.

Amenities and Activities
The all-inclusive package includes diverse options for dining, unlimited beverages, and an array of activities designed for couples, including world-class entertainment. Elevate your evenings and enjoy nightly entertainment like live shows, music, themed parties, and more. 
.During your stay, consider splurging on a spa treatment or  a romantic dinner on the beach. Or if you're looking to add some adventure to your honeymoon, the resort can assist you in trying water sports or booking a local tour.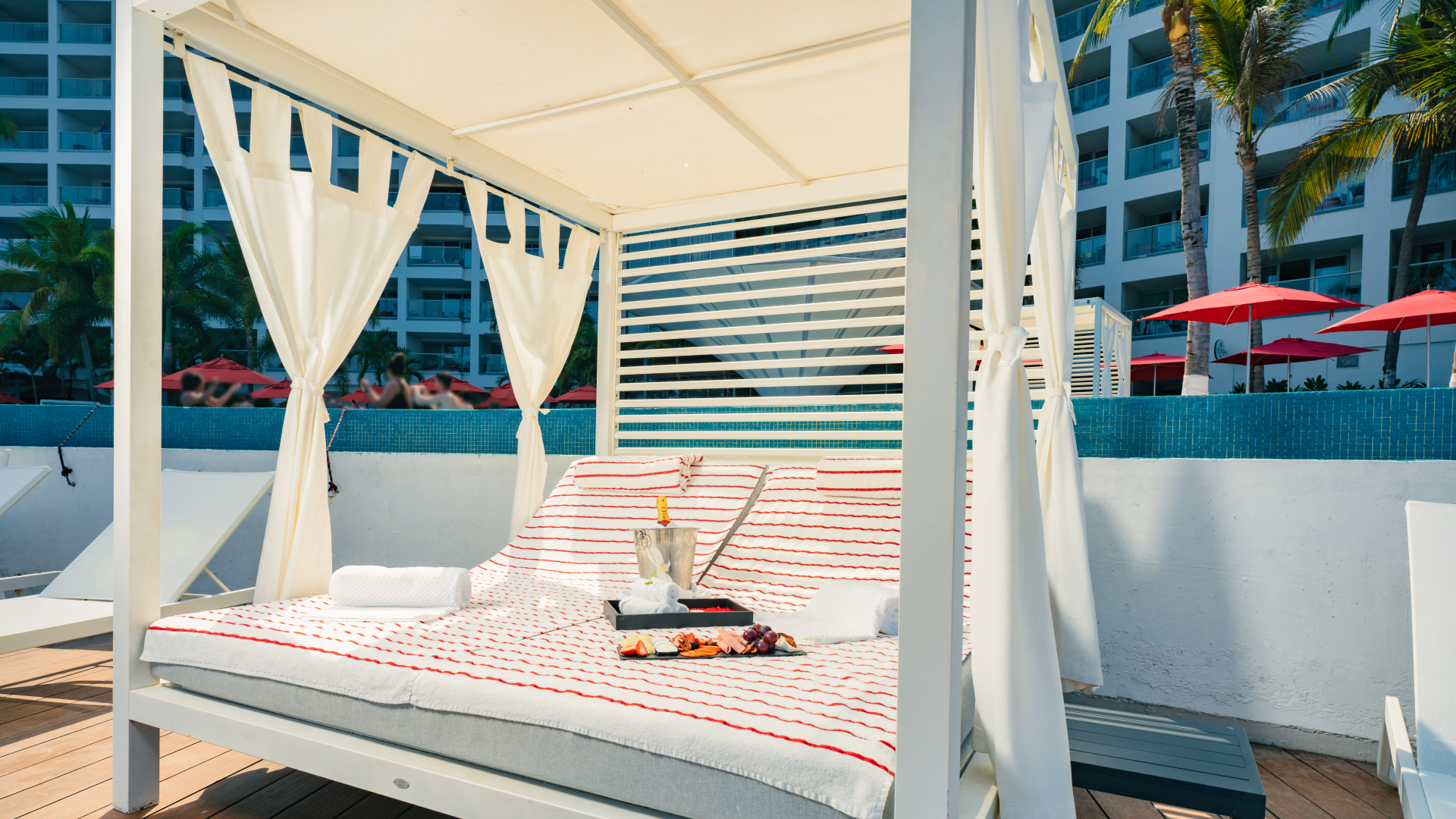 Creating a Relaxing Itinerary
Day 1: Arrival and Unwinding
Check into your suite and enjoy a welcome drink.

Take a walk along the private beach or unwind at the adults-only pool.

End the day with a romantic dinner at one of the resort's gourmet restaurants and a world-class live show!
Day 2: Spa Day
After a long travel day, start your day off with some light movement in the resort's gym—or even try a workout class to switch things up.

Schedule a couple's massage or personalized spa treatment—consider adding this as a registry item on your

Honeyfund

so your wedding guests can gift you this experience!

Enjoy a light lunch at the poolside bar.

Take a leisurely nap or read a book on your private terrace.
Day 3: Local Exploration
Take a half-day tour to explore Puerto Vallarta's charming streets, local markets, and cultural landmarks.

Return to the resort for a beachside BBQ dinner.
Day 4: Adventure or Relaxation—Your Choice
Opt for water activities like snorkeling or paddleboarding.

Alternatively, take a cooking class together and learn to make a traditional Mexican dish.
Day 5: Farewell
Enjoy a farewell breakfast.

Take some last-minute photos to capture the memories.

Additional Tips for a Relaxing Honeymoon
Pack Light: The resort provides many amenities, so you don't have to bring much.

Customize Your Experience: The staff at

Hilton Vallarta Riviera All-Inclusive Resort

are more than willing to customize your stay. Don't hesitate to make special requests.

Plan Ahead: While spontaneity is exciting, planning and booking at least a few activities in advance ensures you'll get to do what you're most interested in.
Book Your Relaxing Honeymoon
Hilton Vallarta Riviera All-Inclusive Resort offers a relaxing and luxurious experience that ensures your honeymoon will be as relaxing as it is memorable. So go ahead and make that booking; you won't regret it!
Disclosures: 
Co-authored by ChatGPT

Some of the links in this blog are affiliate links, meaning that at no additional cost to you, Honeyfund will receive a commission if you click through and make a purchase.