This entry is from our Expert Guest series where wedding and honeymoon professionals share their best tips on creating memories that last a lifetime. 
Although a majority of the country is bundled up in February, that doesn't necessarily make February a bad time for the perfect honeymoon. In fact, there are several amazing sites that new couples can escape to for an unforgettable February honeymoon. Here are ten breathtaking February honeymoon locations that can suit the needs of almost any new couple.
#1. Bali, Indonesia 
Reason to go:  Bali, nicknamed Island of the Gods, is known as an island filled with gorgeous beaches and beautiful terrain that has been attracting more and more visitors each year. Bali offers new couples plenty of options for an exceptional honeymoon. Go scuba diving, view the paddy fields with traditional Subak irrigation systems or enjoy a romantic dinner for a fraction of the cost of other equally beautiful locations. 
Must do: Temples. A must see for any visitor of Bali are the breathtakingly beautiful temples, some of which are located on cliffs that offer amazing views of the island.  
February Forecast: High 86°F, Low 72°F with an average of 6 hours of sunshine per day. While it is humid, the sea temperature is perfect for long stints in the water.
#2 Dubai, UAE
Reason to go: An architectural masterpiece that offers lavish luxury uncommon to most of the world, Dubai has quickly become one of the must-visit locations for newlyweds. Whether you are partaking in beaches that are second to none, enjoying a truly diverse cuisine, or taking in the view from the tallest building in the world, Dubai offers a litany of activities that would keep even the most adventurous couple preoccupied. 
Must do: Visit the Desert. What may truly set Dubai apart are the sights and adventures encapsulated in the deserts of Dubai.  Couples can indulge in a romantic candlelight dinner in the desert, ride horses and camels, or even take an overnight safari in the desert. 
February Forecast: High 75 °F, Low 59 °F with an average of 8 hours of sunshine per day.  Visitors to Dubai can look forward to low humidity and low rainfalls. 
#3 Ko Samui, Thailand
Reason to go: Sabai (tranquility and happiness) is a perfect description for this beautiful island in the Gulf of Thailand nearly an hour away from the big city life in Bangkok. Couples can enjoy a variety of activities on this island from buying cheap clothing, taking an adventurous hike up Koh Wua Ta Lab Island or simply enjoying pampering from a collection of the most luxurious resorts in Thailand. 
Must do: Take a songthaew (modified truck) to visit Wat Phra Yai or the Big Buddha Temple.  It is a sight to behold. 
February Forecast: High 84°F, Low 77°F with an average of 8 hours of sunshine per day.  In the midst of dry season, February is a great time to visit Ko Samui and enjoy great sea temperatures.
#4 Bora Bora, French Polynesia 
Reason to go: When you look up romantic getaways, the bungalows and endless miles of beautiful blue lagoon water of Bora Bora are what you would probably imagine. While Bora Bora is known as a romantic paradise, it does offer something for the couple looking for a little adventure such as lagoon tours, scuba diving, snorkeling or hiking.
Must do: Unplug and simply enjoy the peace and serenity of being at such a beautiful secluded island. 
February Forecast: High 88°F, Low 75°F with an average of 7 hours of sunshine per day. Although a bit rainy, Bora Bora offers fabulous sea temperatures for lots of sea activities. 
#5 Cancun/Riviera Maya, Mexico – COVID FRIENDLY
Reason to go: Cancun is a very popular honeymoon destination for people in the U.S., and it's easy to see why. An extremely easy place to travel to, Cancun and the Riviera Maya offer the type of luxury and hospitality that any honeymooner can love. Cancun and Riviera Maya can be a social maven or a reclusive relaxation destination, the choice is up to you. 
Must do: Take a day trip to see the Mayan ruins in Chichen Itza to experience El Castillo pyramid, one of the New Seven Wonders of the World. 
February Forecast: High 84°F, Low 70°F with an average of 9 hours of sunshine per day. With great sea temperatures and relatively low rainfall, Cancun has the perfect weather to defeat winter blues. 
#6 Puerto Vallarta, Mexico – COVID FRIENDLY
Reason to go: Made popular by Elizabeth Taylor and Richard Burton in the 1960s, Puerta Vallarta has maintained its reputation as wonderful honeymoon location. Nestled between the Sierra Madre Occidental and the Pacific Ocean, Puerto Vallarta has maintained its small city charm while simultaneously morphing into a popular destination. Couples coming here can except to enjoy plush beaches, a vibrant artistic scene, whale watching, and much more.  
Must do:  Puerto Vallarta Melacon. This boardwalk is a must visit spot that encapsulates all that Puerto Vallarta has to offer in one location. 
February Forecast: High 84°F, 57°F, with an average of 10 hours of sunshine per day. With its proximity to the equator, Puerto Vallarta enjoys a great amount of sun and little rain with ideal sea temperatures.
#7 San Diego, California
Reason to go: For a U.S. destination that rivals what a couple can find in more remote locations, look no further than San Diego. San Diego's beaches, culture, and complex offering of activities allow it to measure up to any destination for a new couple to celebrate their new marriage.  
Must do: Balboa Park. Home to several museums and the infamous San Diego Zoo, Balboa Park is a must see attraction in San Diego. 
February Forecast: High 67°F, Low 51°F with an average 8 hours of sunshine per day. Although rain may be in the forecast, mild temperatures offer a great environment to explore in San Diego.
 #8 Maui, Hawaii
Reason to go: Hawaii is often regarded as the most popular honeymoon spot, and Maui appears to be the top island choice as it is less crowded than Oahu and offers more variety of activities than Big Island, Lana'I or Moloka'i. Maui offers visitors the chance to explore some of the amazing beaches and scenery of Hawaii while also maintaining a connection to every day accommodations. 
Must do: Haleakala National Park. Seeing the amazing views atop Haleakala, an inactive volcano and seeing the waterfalls, lava cliffs and beaches along the road to Hana are worth the trip to Maui in and of themselves. 
February Forecast:  High 80°F, Low 63° with an average of 8 hours of sunshine per day. Despite the slightly higher rain fall, February still offers plenty of opportunity for water activities in Maui with sea temperatures around 75°F
#9 Costa Rica – COVID FRIENDLY
Reason to go: A less commercial honeymoon site, Costa Rica prides itself on ecotourism and its endeavor to persevere its beautiful rain forest nature preserves, national parks and biological preserves. Nonetheless, Costa Rica still has rich assortment of beaches that border the Pacific Ocean and the Caribbean where couples can whale watch and go deep sea scuba diving. Costa Rica's vibrant plant and wildlife are also captivating for many of its visitors. 
Must do: Coffee. Costa Rica is well known for its coffee that is rich in quality and caffeine. Locals have been known to drink up to 6 cups a day and good coffee can be found almost anywhere on the island. 
February Forecast: High 84°F, Low 64°F with an average of 7 hours of sunshine per day. Right in the middle of its dry season, February is a great time to visit Costa Rica and find picturesque weather.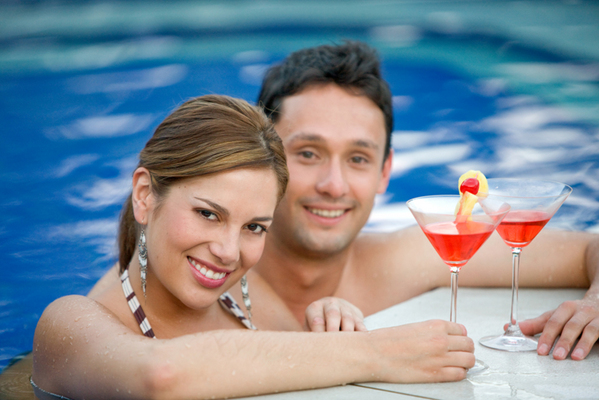 #10 Negril, Jamaica – COVID FRIENDLY
Reason to go: Negril, a short bus trip away from Montego Bay, is home of Seven Mile Beach, one of the most picturesque stretches of beach in Jamaica and the Caribbean. Honeymooners here can relax and indulge in some of the most romantic all-inclusive property in Jamaica or seek adventures like horseback riding in the water, scuba diving or snorkeling. 
Must do: Cliff diving. Many visitors to Negril spend a day cliff diving and having a beverage or two at Rick's Café in Negril. 
Bio: Régine Danielle Events: Régine Danielle Events is a full-service wedding planning and design firm that serves clients in the Greater Chicago area, Dallas, and Mexico. Offering the flexibility to coordinate your wedding in any city or destination of your choosing, they specialize in creating awe-inspiring weddings that embody your vision of sophistication and elegance as a couple. 
Lead planner Régina Brooks' sophisticated eye and attention to detail result in polished events that reflect your unique vision as a couple. Her highly personalized service, partnerships with premier vendors and design expertise blend perfectly to create both a smooth planning process and your ultimate wedding day. To book your complimentary Get Acquainted session, please contact Regina at www.reginedanielle.com.
Photo credits: http://www.iclipart.com/