This entry is from our Expert Guest series where wedding and honeymoon professionals share their best tips on creating memories that last a lifetime.
September is an increasingly popular time to get married. Technically part of summer, the days are still warm, even though the nights can be cool. Some wedding planners debate whether a wedding at this time as a summer or fall one, so you can go with summer or fall colors. After a lovely ceremony, you can plan a dream honeymoon in September some of the most inviting warm locations around the globe.
Great Places to Honeymoon in September
Almalfi Coast, Italy
Cap off your wedding with a trip to this picturesque coastline along the Mediterranean! Take advantage of the end of the tourist season and the small crowds, by planning day trips to Pompei and Naples. With temperatures in the low 70's, be sure to take a boat excursion over to the island of Capri. The views will be breathtaking!
Napa, CA
Napa Valley, California has some of the most splendid scenery in the world, along with incredible restaurants — and of course, the wine! Take a tour of the sparkling wine vineyard at Domaine Chandon, enjoying a tasting of their best bubbly on their beautiful grounds. Stroll through nearby Yountville, a charming town with tasting rooms and world class restaurants on every corner. If you're up for it, grab a bicycle from your hotel – most will have them on site — and ride around to local vineyards to take in the amazing views.
Mallorca, Spain
If you picture pristine water, sandy beaches, and amazing weather for your honeymoon, then you must visit Mallorca! There are over 360 beaches on the island some busy and popular, others smaller and secluded. Try a different beach every day- white sand for Monday, rocky cliffs for Tuesday, and port-side for Wednesday. You will return home satisfied and sun-kissed!
Lake Tahoe, CA
Treat yourself in the fresh air and beautiful scenery of Lake Tahoe – you deserve it! The Ritz Carlton, Lake Tahoe has everything you need to feel pampered and relaxed. Indulge yourself in the many amenities the spa has to offer – a warm stone massage, a revitalizing facial, or a soothing manicure. Finish the day with a soak in the spa's heated pool. Any remaining wedding stress will melt away!
Monaco, French Riviera
Monaco has something for everyone! The royal principality located on the French Riviera, offers spectacular and exciting excursions along with romantic and extravagant experiences. Dreamy strolls along the coast, shows at the opera house, adventures at the famous Casino de Paris, head-turning Ferrari rides – Monaco has it all. Lifetime memories are sure to be made on this honeymoon!
Santa Barbara, CA
Santa Barbara offers an international feel and a cultural experience in the beautiful location of southern California. It holds a variety of experiences from wine tastings and art museum tours to whale watching and cruising the Pacific. And don't forget the cuisine-foodie paradise in Santa Barbara! Treat yourself to the ultimate luxury with accommodations at the Four Seasons Resort: The Biltmore Santa Barbara, settled in between the Pacific Ocean and Santa Ynez Mountains – it's truly spectacular!
Jade Mountain, St Lucia
Photos of this serene location speak volumes! Jade Mountain Resort consists of 24 sanctuaries – rooms with a beautiful infinity pool and a stunning view of the Caribbean Sea. Your living space and nature flow together to create a unique, one-of-a-kind experience. Step outside of your room (if you must!) and enjoy the beautiful beaches, scuba diving, hiking, and other outdoor activities the resort has to offer.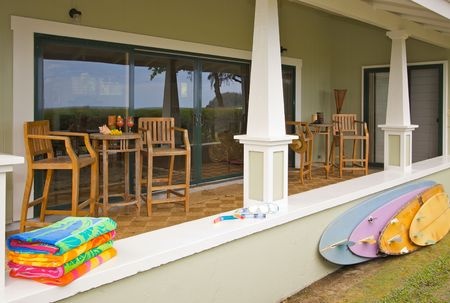 Lanai, Hawaii
Looking for romance? The Four Seasons at Lanai Hawaii is the perfect location for a romantic getaway. Adult-only lagoon pools, outdoor walking paths, private sailboat charters, and phenomenal cuisine make for a dreamy vacation. Don't forget to snap a pic at Sweetheart Rock while you're there – ideal honeymoon photo-opp!
Palmetto Bluff, SC
The Montage Palmetto Bluff is the perfect mix of luxury and charm. Spend your honeymoon at this classic southern resort; you will enjoy every minute! A few highlights include- spa and wellness center, charming village shops and restaurants, nature preserve and walking trails, impeccably manicured golf course, large marina with a plethora of water sports, and the most perfectly designed cottages and homes. With all of these experiences at your fingertips, there is no need to leave the resort; however neighboring towns like Hilton Head and Savannah make for great day trips.
Anguilla, Caribbean
If you're looking for a mix of adventure and a mix of relaxation, look no further than Anguilla! Here you'll find scuba diving, snorkeling, wind surfing, paddle-boarding, whale-watching, swimming with dolphins, kayaking, canoeing, and more! We highly recommend staying at the Viceroy resort while you're there. White sand beaches, pool and spa, beautiful modern architecture, and luxury rooms make for an unforgettable honeymoon!
Plan ahead for a beautiful honeymoon by including your trip in your wedding registry. Many major retailers list a honeymoon fund in the gifts the couple would like to have.
Wrap It Up is a division of Bliss Weddings & Events, a Chicago-based event design and planning company nationally recognized for their full service, tailored approach to high end, visionary events. It is in this spirit of an extra personalized planning experience that founder, Renny designed the Wrap It Up concept; an à la carte service option for clients who would like guidance and assistance with a specific event need or stage in planning and want the assurance that only a truly expert planning team can provide. No matter the special occasion or size of the task, Wrap It Up pros are at your service to offer their pearls of wisdom, penchant for high style, or simply a few extra pairs of skilled hands so you can relish in the excitement of celebration, sans the stress. яндекс Wedding, shower, birthday bash, graduation party- let us wrap it up, so you can live it up! Check us out! http://www.wrapitupparties.com.