This entry is from our Expert Guest series where wedding and honeymoon professionals share their best tips on creating memories that last a lifetime.
Wedding dress fashions are ever changing, with countless looks out there for different brides.  Still, there are some tried-and-true styles that are elegant and flattering for anyone searching for her gown right now.
Our Midwest brides generally desire a dress that is timeless, makes them feel like their most beautiful self, and offers some comfort. We find that these styles are winners for a wide variety of bridal customers, and for good reason!
Body Conscious Wedding Gown Silhouettes
Today's bride is healthy and works hard to be in her best shape for her wedding day.  So of course, she wants to show off the body she has earned through sweat and self-control!
Beyond that, a slim silhouette complements a woman's curves, rather than adding bulky fabric to them.  Any size woman can wear this silhouette and feel beautiful!
Fit-and-Flare
Our most popular silhouette is a fit-and-flare style. This type of dress skims the curves of the body, but gives a little kick at the knee without extra fullness in the skirt. These dresses are usually described as comfortable AND sexy because, when altered to a woman's body, they offer ease of movement while accentuating all the right areas.
Mermaid & Dropped Waist
These styles take the fit-and-flare up a notch with a bolder skirt. A mermaid style is body conscious through the knee, at which point it dramatically poofs with layers of fabric. A dropped waist maintains the sexy fit through the hips and tush. These gowns often give the bride a feeling of Old Hollywood glamour.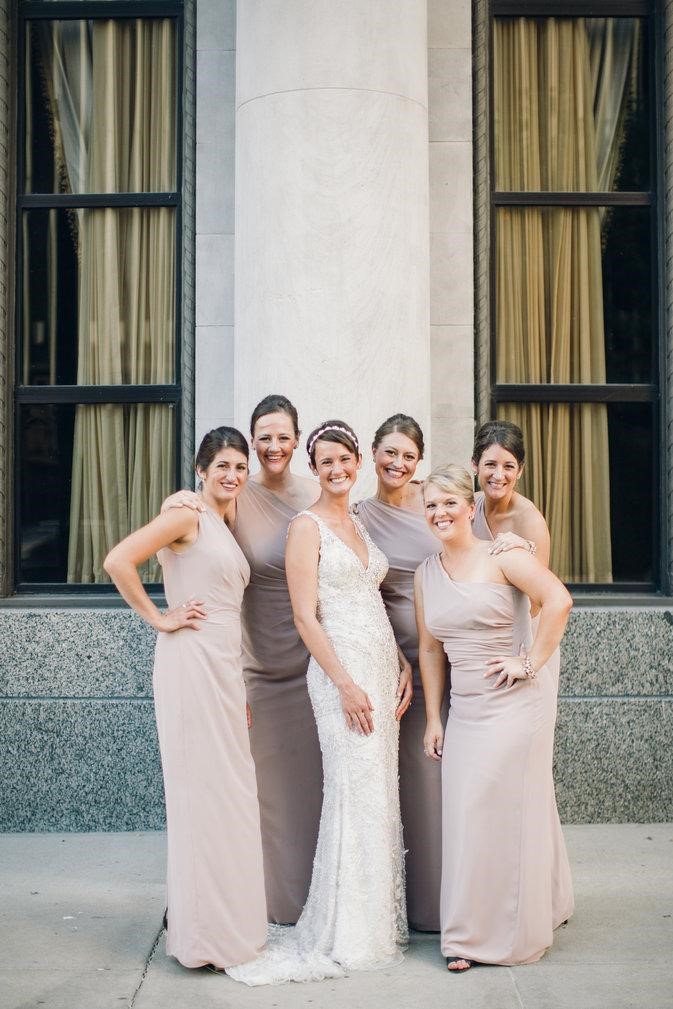 Sheath
The column or sheath dress is awesome on tall and confident brides. It is a classic silhouette that offers simplicity and a clean, modern line.
Unexpected Color
The bride wore white, right? Well, maybe not! While ivory (or off-white) is the most common bridal color, MANY of our brides are choosing something a bit more unique. Think soft blushes, golds and nudes, even a gentle grey or blue! Often, brides will choose to show some dimension by layering ivory lace or tulle over a lining color with more impact. Or, they may choose to accent their gown with a colorful sash or belt. If you are worried about being washed out on your wedding day, play around with the color of your gown. The wedding color rules of yesteryear are gone!
Three-Dimensional Fabrications
As any Pinterest-lover knows, layers are are a good thing!  Whether it's your hair, your fall outfit, or your wedding dress, dimension adds sophistication. We are seeing lots of design choices in bridal that offer that layered look, from 3-D lace appliques to mixing of fabrics one on top of the other.

3-D Features
The easiest way to pull off the 3-D bridal trend is with lace appliques.  They might add just a little texture throughout the gown, with a beautiful scalloped edging on the neckline and hemline, giving the gown a finished look.
However, you can live a little more dangerously, too!  Feathers, fringe, and draped, jeweled backs are all available for the bride who wants to add some dimension to her gown.
Layered Lace
We love to see the unique ways bridal designers are mixing their fabrics lately. You can find many gowns with a larger lace layered on top of a tighter lace for a romantic, vintage feel. Or, if you are the bride wanting to shine on her wedding day, you might just fall in love with the secret sparkle dresses.  These gowns layer lace over a glittery layer of fabric that peeks through just enough to give a hint of sparkle.  Beautifully surprising!
Illusion Details
Illusion fabrics give you the look of bare skin with the comfort of coverage. Our brides love the style of illusion open backs, dainty lace necklines made possible by the tulle netting, and even sleeves that are modernized by this beautiful bridal trend.
To achieve the perfect look for each bride, some designers are even offering different color options for their illusion fabric. Some of our customers choose to keep the illusion netting ivory to match their gown, but others choose a shade to blend with their skin tone.  It's a matter of personal choice!
Textured and Finished Skirts
When our brides choose a full skirt silhouette, they almost always want some drama there!  There are many choices of a fully-designed bridal skirt.

Finished Hem
Instead of a plain satin or tulle hem, most brides today want to have an edging that gives the skirt a finished look.  Usually that is a lace applique that adds some visual interest at the bottom of the skirt.
Tiered or Ruffled Skirt
To create a dramatic, storybook look, brides are gravitating toward skirts with horsehair edged tiers and gathered, soft ruffles.  These modern skirts are artfully designed to provide beautiful movement.
Whatever style a bride chooses for her big day should make her feel her best!  Our Midwest brides tend to be a bit more conservative in their style choices, which we totally respect. A timeless wedding dress is one you won't be embarrassed by 15 years down the road when you get out the wedding album.  We want every bride to LOVE her wedding dress when she finds it, when she walks down the aisle and every time she looks back on her special day!
After the big day, enjoy a honeymoon financed through a Honeyfund honeymoon registry.
Bio:  Hope's Bridal is the leader in bridal fashion in Eastern Iowa, with two locations and over 40 years of service.  Johanna Powers grew up helping her mom in the family-owned bridal shops.  Johanna writes the blog for the business, which you can visit at www.hopesbridal.com.  She loves highlighting real Hope's weddings and sharing the latest insights from her buying trips to bridal markets and fashion shows.  She and her husband married in 2012 and honeymooned in Southeast Asia- they can't recommend it enough!