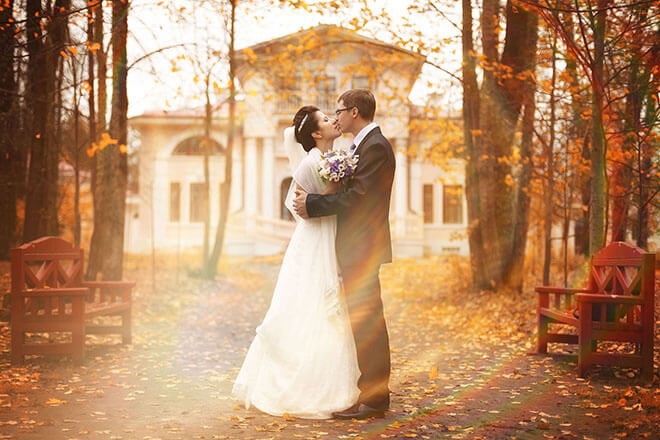 This entry is from our Expert Guest series where wedding and honeymoon professionals share their best tips on creating memories that last a lifetime.
While the spring and summer months are traditionally the most popular for couples who are planning their weddings, fall has its own special beauty that lends itself perfectly to a romantic afternoon or evening wedding.
However, there are a few extra things to take into consideration if you're planning a fall wedding. For example, fall brings generally comfortable weather, an abundance of fall-themed décor, gorgeous foliage for the perfect backdrop for your wedding photography, and possibly even some off-season discounts from your venue and vendors. yet, a fall wedding can also pose some challenges, such as unpredictable weather and possible conflicts with dates.
Here are a few pointers to consider throughout the process of planning your fall wedding.
Planning A Fall Wedding
Plan According to Your Region
Depending on where you live or where you're planning your wedding, October could be uncomfortably hot, or it could snow. You may not be able to predict whether you'll have sunny skies or buckets of rain on your special day, but you can track predictions to get a good idea of what kind of temperatures you should plan for. This will let you better decide whether you want an outside wedding or an indoor wedding and inform your guests if they should bring outerwear like sweaters or jackets.
If you live in a state that observes daylight saving time and your wedding is in November, then you'll want to remember that the sun will rise and set an hour earlier. The time of day and where the sun is in the sky during your wedding photo session could have a big impact on how your pictures turn out. Make sure you talk to your photographer ahead of time to discuss the best time of day for the photo session.
Plan Around the Holidays
As far as holidays go, summer is a relatively easy time to plan a wedding. Kids are out of school, freeing families up to be able to travel out of town to attend a wedding, and aside from Independence Day and Labor Day, there are no major holidays that are likely to cause schedule conflicts. Fall weddings pose a challenge in that schools are back in session and many industries are going into their peak seasons, so guests may have a harder time getting time away to attend your wedding. On top of that, Halloween, Thanksgiving, and Christmas parties may limit the number of free weekends your guests have. As much as possible, plan around the seasonal holidays to ensure that you have a good guest turnout.

Choosing Your Decor For Autumn Weddings
The fall color palette is all about rich, warm colors. While a lot of couples incorporate the season's reds, browns, and oranges into their wedding décor, you don't have to limit yourself to the colors of fall foliage. Copper colors, jewel tones, and metallics all work beautifully with a fall backdrop.
Creating a One-of-a-Kind Keepsake For A Fall Wedding
Capture the beauty of your fall wedding with a one-of-a-kind piece of art. From selecting a custom wood, print, canvas and even metal art piece and customizing it with a meaningful message to transforming your favorite photo into a piece of art that you can play using the Soundwave Art™ Mobile App, you have the opportunity to create a keepsake that will be cherished for decades to come.
Make your wedding dreams a reality with a Honeyfund honeymoon registry.
Bio: Mike LaTour  | Soundwave Art™
I spent 17 years in the music industry and look back on those days fondly. I've always had an admiration for art which led me to combine the two and creating Soundwave Art™.