This entry is from our Expert Guest series where wedding and honeymoon professionals share their best tips on creating memories that last a lifetime.
October can be a cold wet month that may get you may be thinking about a romantic getaway with your partner where it's warm or exotic for your honeymoon. But if you love October, like I love October – the fall colors, the fireplaces, and the leaves on the ground – then look no further than the vast, beautiful country Canadians call home.
Whether you're interested in walking along the shore of the Atlantic or dipping your toes in the Pacific, it seems Canada is home to it all. From coast to coast, the country is packed with magnificent scenery, azure lakes, snow-capped mountains, rolling hills, and thick, lush nature. There is so much to explore that you truly don't need to trek to foreign lands to take in a beautiful view and relish in an unforgettable moment with your significant other. Below I've rounded up a few domestic travel destinations that are perfect for doing just that.
Great Canadian Wedding Destinations


Whitehorse, Yukon
You can't deny the magic of the Canada's far north, especially when it's known as the land of the midnight sun. Whitehorse, Yukon provides incredible views of the Aurora Borealis, the breathtaking natural phenomenon also referred to as the Northern Lights. The larger-than-life views here are complimented by a number of guided tours that offer hiking and canoeing trips through relatively unexplored forests"perfect for those looking for a more adventurous vacation. Ice fishing, skiing, snowboarding, and snowshoeing are the go-to winter activities. For a romantic, tranquil place to land with your sweetheart in the evening, check out the Sundog Retreat just outside of Whitehorse.
Peggy's Cove, Nova Scotia
Home to Canada's most famous lighthouse and fishing village Peggy's Cove was built in 1868, with scenic ocean views, and picturesque landscapes make this a romantic October getaway. Take a hand in hand walk down the beach and bring a blanket to snuggle up with your mate to watch an unforgettable sunset on the shores of St. Margaret's Bay. Sample some of the delicious food in the many seafood restaurants, check out the cute souvenir shops, or go on a long hike before turning in for the night at one of the many quaint inns or cottages along the coast. For a room with a deck that offers a gorgeous morning view of the cove, try Peggy's Cove Bed & Breakfast.
Cape Breton, Nova Scotia
Perhaps it's in the maritime air, but something about Cape Breton brings out the unmistakable beauty in all its landscape. See for yourself by exploring some of the natural splendor along the coast. Cycle the Cabot or Celtic Coastal Trails, spend an afternoon salmon fishing in the Margaree River, or hike one of the 26 trails in Highland National Park. Cap it off with a romantic evening indulging in some of the delicious seafood fresh from the Atlantic Ocean. If you stay in one of the many inns or hotels located along the Cabot Trail, you'll wake up to sounds of waves crashing into the cliffs below.
Banff, Alberta 
From the crystal clear lakes to the jaw dropping mountains, Banff is a definite must for those looking to make everlasting memories with their significant other. Located in Alberta's Rocky Mountains, Banff is home to breathtaking hiking trails, numerous photo opportunities around nearby Lake Louise, and romantic hot springs to relax and rejuvenate with your partner. The Fairmont Banff Springs is one of the luxury mountain hotels located in the heart of Banff National Park.
Vancouver Island, British Columbia
Other noteworthy destinations that deserve some attention is Vancouver Island, British Columbia. Victoria, the capital of BC has a wide variety of attractions from whale watching, horse drawn carriage rides around the city and romantic walks through cobble streets.  Victoria offers a wide variety of boutique hotels and luxury resort right on the water.
Haida Gwaii, British Columbia
Haida Gwaii, an Island in the Western part of BC is home to three municipal and two Haida villages and more than a few eclectic settlements. They are known for their hospitality and generosity so don't be surprised if you're invited over to a beach fire for the evening or someone goes the 'extra mile' for you – that's just island life.
Milk River, Alberta
Near the Alberta/Montana border and just 44 km east of the small town of Milk River is the Writing-on-Stone Provincial Park. Canada recently nominated the park to UNESCO for World Heritage status. This park boasts having over 50 petroglyphs (stone-carved images) created by the Blackfoot Native Americans, which date as far back as 7000 B.C. This is a beautiful place to discover with your new spouse and learn something new as well.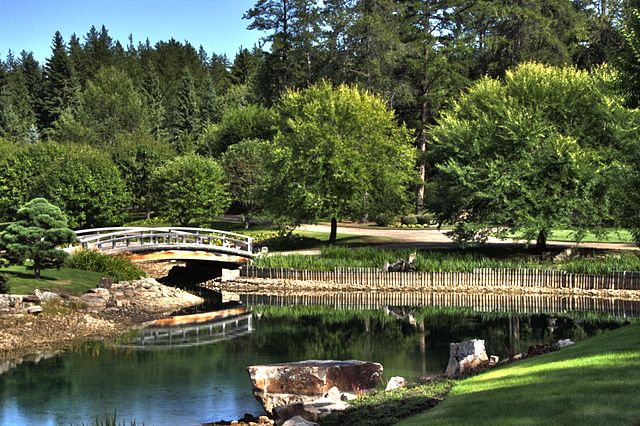 Lethbridge, Alberta
Lethbridge, Alberta, home of the world famous Japanese Garden, which attracts visitors from all over the world. During World War II, Canada gathered thousands of Japanese Canadians into concentration camps near Lethbridge. When the war ended, many decided to stay in the surrounding area. To make the vast prairie land feel more like home, they built the Japanese Garden near the center of the town. It has been a highlight for many tourists since.
Riding Mountain National Park
Roast marshmallows over a crackling campfire, sleep under the stars – and banish the phrase "roughing it" from your honeymoon vocabulary when you camp out in a Mongolian yurt in the Manitoba wilderness. Equipped with skylights, solar lighting, heaters and lanterns, yurts are eight-sided shelters created by stretching canvas over a wood frame, with windows, a wood floor and a lockable door opening on to a porch or patio. Plenty of room for cuddling couples, yurts provide an authentic camping experience that lets you enjoy the restorative power of nature and still start your day with a shower and a hot cup of joe. You'll find yurts at Riding Mountain National Park.
Denare Beach
Most people don't know that Saskatchewan has 100,000 lakes"instead; they have a reputation for flat prairie land and oceans of wheat fields. In fact, the great plains of North America end where the Qu'Appelle Valley cuts across Saskatchewan around 130 miles north of the U.S. border. Not that all the land south of that line is prairie either, as it includes the cypress uplands of the Cypress Hills, the Badlands of southwestern Saskatchewan, and the aspen parklands of southeast Saskatchewan.  The lakes of Saskatchewan are amazing!  Denare Beach, a northern village in Saskatchewan, on the edge of Amisk Lake is last place on my list of perfectly lovely places to visit on your October honeymoon.
Bio: Sublime Celebrations: What does your dream wedding look like? Are you entering a lavishly adorned ballroom to the applause of 200 invited guests? Or, are you whispering I do on a white sandy beach in front of your closest friends and family? Sublime Celebrations helps you create a uniquely personal wedding to celebrate your commitment in a way that honours your values, culture and individual personalities. Whether your dream wedding is grand or intimate, casual or traditional, elegant or wildly eclectic, we'll create a special occasion that is uniquely yours. Wedding planning services include a Full Wedding Planning Package, Month of Coordination Package, or Day of Package. Check out their work at http://www.sublimecelebrations.com/
Cover photo: Copyright: andriikobryn / 123RF Stock Photo