This entry is from our Expert Guest series where wedding and honeymoon professionals share their best tips on creating memories that last a lifetime….
Cruise lines offer many perks to attract newlyweds, including exotic destinations, beautiful scenery, a variety of foods, on-board and on-shore shopping, and a variety of activities. After planning a wedding, you may find a cruise honeymoon just right for you.
Tips to Get You on the Right Cruise
Since cruise packages change frequently, find a travel agent who specializes in cruises – even if you have been on a cruise before. They can present the options, find one that is perfect for you, and often get some extra amenities at no charge. Have your travel agent lay out everything in the package and know what you're getting so you can compare prices.
If your cruise line offers a celebration package, book it well in advance.
Tables for two are in demand, so request one early and make sure the cruise line knows that it's because you're on your honeymoon.
If you want a couple's massage, book it early. Couples massages sell out very quickly.
Different Cruise Line Amenities
If you're not sure what type of cruise to look for, you'll have a choice between activity heavy cruises, a low-key ambience, luxury cruises, or more informal lines. Cruise lines are listed here in alphabetical order.
Azamara Club Cruises
This a little bit of luxury but not over the top. You'll get personal attention and an intimate ambience with occasional overnights in port. Most gratuities, beverages and shuttle buses into town are included. They don't offer honeymoon packages, but concierge services are free so you can customize your trip with little surprises. You'll find spas, tables for two, breakfast in bed, wine included with meals, fresh flowers in staterooms, and butlers for suite guests.
Carnival Cruise Lines
Their affordable honeymoon options include a six-inch honeymoon cake, a memory box with photo frames and photo mailing cards, a bottle of Korbel sparkling wine and two etched honeymoon champagne flutes, tic-tac-toe with metal game pieces cut in heart shapes, tee shirts, visors, beach towels, bar coupons, and a photo coupon. You'll pay $7.95 and up for options.
Celebrity Cruises
You'll get a sophisticated atmosphere and personal service at lower rates than the luxury lines. A Concierge Class cabin gets you extra amenities such as daily canapés. Solstice-class ships offer an Aqua Spa cabin with wellness amenities right in your room, and priority seating at the chic Blu restaurant and the spa's relaxation room. All newlyweds get evening celebrations with hors d'oeuvres and champagne.
Honeymoon packages include a bottle of champagne or sparkling wine, rose petals sprinkled on your bed, and chocolate-dipped strawberries in your cabin. The higher priced package also includes robes and slippers, breakfast in bed and a special romantic dinner.
Costa Cruises
Italian Costa has a European atmosphere with regional cuisine and some of the most expansive spas at sea. Honeymooners take part in a cocktail party for newlyweds and can purchase the Honeymoon Package, which includes two keepsake bathrobes, a bottle of sparkling wine, a floral arrangement, and a photo portrait.
Crystal Cruises
This upscale luxury line has outstanding service, elegant afternoon tea and gourmet Asian cuisine, and offers a range of amenities from flowers and candy to champagne. Dining is formal, and you'll have to select your dining times in advance.
Disney Cruise Line
Disney caters to adults as much as kids, with many adults-only activities, restaurants, and nightlife. The "All You Can Dream" package comes with a waterproof blanket, picnic case, plates, napkins, cutlery, a cheese board, a bottle opener, and robes. You can purchase additional champagne, a fruit and cheese platter, and fresh flowers. There are dozens of other gift packages and honeymoon packages.
European Waterways
European Waterways operate a fleet of fully-crewed hotel barges in France and other European countries, from the picturesque vineyards of Burgundy to the spectacular Scottish Highlands; from the sun-drenched Canal du Midi to the storybook Alsace. They are luxury floating boutique hotels that offer a unique private honeymoon cruise that will cater to your every whim. You'll have your own personal chef with candlelit dinners, fine wines, and shore excursions included, such as a hot air balloon ride, a visit to a romantic château, or a picnic by a beautiful Scottish lake loch.
Contact European Waterways at gobarging.com or call Toll Free 1-877-879-8808.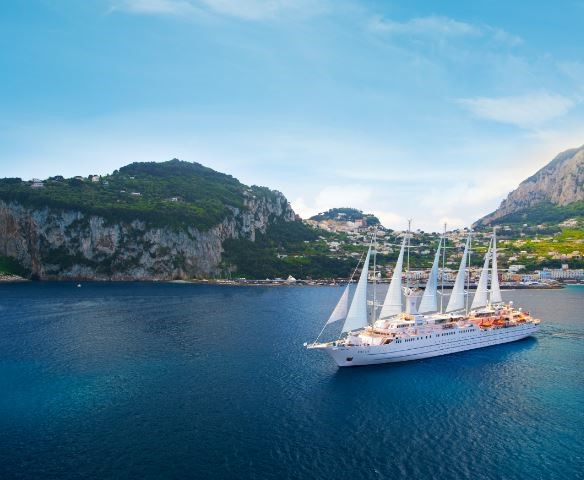 Holland America Line
They offer mid-size ships with a more intimate experience, Eurotop mattresses and upscale bedding, gourmet food, and a spa. Make sure you're listed as honeymooners and get invited to the Honeymoon at Sea party. Package options include sparkling wine or champagne, a small cake, a photo, a flower bouquet, chocolate-covered strawberries delivered to your stateroom, dinner for two, a casino gaming lesson with free chips to start you off, couple's massages, a pair of terrycloth robes, in-room dessert with champagne, and afternoon tea served in your stateroom.
Norwegian Cruise Line
There are no set dining arrangements so you can eat when and where you want, with multiple choices in restaurants, bars, lounges and discos. Package options include sparkling wine and strawberries, couple's massage, a body wrap for her, breakfast in bed, in-cabin tea service, a formal portrait, and dinner for two with wine. You can make dinner reservations up to 90 days in advance or on board.
Oceania Cruises
Low-key honeymooners who want interesting itineraries, chic ambience, incredible dining, and impeccable service will fit in here. This line has luxurious and romantic onboard spots to enjoy. Champagne breakfasts with a full hot and cold menu are served on your private balcony in Concierge-Class staterooms.
P&O Cruises
Each ship is different, with 1) an adults-only ship (traditional ship with set dining and formal evenings) and 2) a ship with a contemporary vibe (choice of fixed or flexible dining and modern spas with hydro pools.) Package options include champagne and chocolates in your room, a formal portrait, breakfast in bed, fresh flowers, a massage or facial, and two fluffy bathrobes. Each ship varies radically so be careful when booking to get the experience you prefer.
Paul Gauguin Cruises
There's only one ship in this "line" and it's been called the most romantic ship in the world. It sails the South Pacific and you'll get a pillow gift, photo, include a letter from the captain, canapés every afternoon, a miniature wedding cake, and a box of chocolates.
Princess Cruises
Princess is highly geared for romance with extraordinary dining options that include an Italian tapas menu, indoor and outdoor massage, a mud room for two, and a variety of entertainment options. Package options include champagne, two engraved glasses and two long-stemmed red roses, chocolate-dipped strawberries, two waffled fabric robes, a massage or facial for each of you, canapés or petit fours delivered to your stateroom, a tour of the bridge, and a personalized, engraved congratulatory card signed by the captain.
Regent Seven Seas Cruises
Everything is included aboard these six-star cruise ships, from superb service and cuisine, to tours and roundtrip air. In addition, dining is flexible, so you're not locked into one seating assignment. Optional honeymoon amenities include a bottle of Veuve Clicquot champagne, caviar, in-suite canapés, a bountiful flower arrangement, a mini-wedding cake, a box of Belgium chocolates, and a congratulatory letter from the captain.
Royal Caribbean
Royal is for couples who want a lot of physical activities like surfing, rock-climbing and working out. Spa, hot tub, and a range of optional extras are offered, including Domaine Chandon sparkling wine or Dom Perignon champagne, chocolate-covered strawberries, petit fours and canapés, after-dinner sweets, breakfast in bed, an 8×10-inch portrait in a silver-plated frame, a dozen roses, terry robes, and spa treatments. If you want to avoid families and children, don't book during holidays and school breaks.
Seabourn
These spacious luxury cruises cater to the whims of guests, but doesn't offer any packages. You can arrange for just about anything, however, from champagne to therapeutic bathing oils from London. You can have alfresco or in-suite dining, someone to run your bath and drop rose petals into the water, and a personal shopper with luxury transport at ports if you so desire.
Silversea Cruises
You'll get serious pampering and service on this line and it's geared toward affluent older couples. If you don't mind that, you'll get the best of the best including Maison Pommery Brut Royal Champagne included in the cost of the cruise, with a bottle chilled every night if that's what you want, or sent with your breakfast. You'll get a box of chocolates and fresh flowers in your room, optional canapés, and a honeymoon cake (advance notice is required). Activities are very limited and there's virtually no nightlife.
Windstar
This is a no-frills line with sleek-masted ships that are ideal for active honeymooners interested in water sports such as scuba diving, snorkeling, windsailing, paddle-boating and water-skiing. You'll get complimentary chocolate-dipped strawberries and can opt for a bottle of champagne, more chocolate-dipped strawberries, breakfast in bed, a keepsake picture frame and a honeymoon certificate.
Call your travel agent now to discuss and book the honeymoon cruise of your dreams. Setting up a Honeyfund honeymoon registry can help you pay for it too!
Bio: Plan Your LDS Wedding Today at WeddingLDS.com, "Where WEDDING comes first!" makes every aspect of your wedding simple, yet elegant, We work with brides, grooms, parents, and attendants to help plan everything from engagement parties to ceremonies to receptions to honeymoons. Check out our website at https://www.weddinglds.com/.