Luxury awaits in Cabo San Lucas, with stunning views of the oceans surrounding this western peninsula in the beautiful country of Mexico. Couples who love warm weather, sunshine and ocean views should look into a honeymoon package in this memorably picturesque area of the world.
Where is Cabo San Lucas?

Cabo San Lucas is a very popular tourist area on the southernmost tip of the Baja Peninsula in Mexico. Overall, this is known as Los Cabos. And the southern state of the peninsula, where Cabo San Lucas is located, is called Baja California Sur.
It is boarded by the Pacific Ocean on the west and the Sea of Cortez on the east, also known as the Gulf of California.
This is on the opposite side of Mexico to where Cancun and Riviera Maya are, which are on the Atlantic, or east, side of the country.
Traveling to Cabo San Lucas as Honeymooners – Passports and Vaccines

You will not need a visa to travel to Cabo for your honeymoon, assuming you'll be there for less than 180 days. But you will need a passport with a blank page to visit. Your passport simply needs to be valid (non-expired) during the time you are visiting the country.
You'll be required to fill out an immigration form when you enter the country, which is usually handed out on your airplane before landing. Hold onto it throughout the duration you and your spouse are in Los Cabos because you'll need to give it to customs before exiting.
Be aware that the water in most areas of Mexico is not potable, meaning it's not safe to ingest. It's always wise to drink bottled water and ask your resort if their water is filtered. Couples should be sure their vaccines are up-to-date, including Hepatitis A, Typhoid, Measles, Polio, and the Flu.
Language in Los Cabos

The official language of Mexico is Spanish, though everyone at your honeymoon resort that you'll interact with will know English well enough to communicate with you.
The Currency You May Need for Your Honeymoon in Cabo San Lucas

The currency in Los Cabos is Mexican pesos. But credit cards are widely accepted in most of the areas you'll visit, especially your honeymoon resort in Cabo San Lucas.
COVID-19 Considerations for Your Los Cabos Honeymoon

Los Cabos has been open to travel and tourism during the pandemic since June 2020. The area's economy thrives on tourism so they developed a health and safety protocol strategy, called "Los Cabos – A Safer Way to Get Away," early on. This includes guidelines for the airport, resorts and activities in the area.
Be aware of COVID recommendations as you plan your honeymoon. The CDC in the United States recommends avoiding non-essential travel to Mexico, but Americans are able to currently travel to the country.
Upon arrival, you'll have to partake in expected safety measures, including wearing a face mask and washing your hands. We advise checking with your particular honeymoon resort for their safety measures and regulations as well.
Getting to Cabo San Lucas for Your Honeymoon: Flying to Western Mexico

Flights to this area of the country are plentiful, which is a perk of it being a popular honeymoon destination.
The Los Cabos airport (code SJD) is called the San Jose del Cabo International Airport.
Here are sample costs of flights from three urban areas of the United States:
Los Angeles to SJD: Traveling from Los Angeles to Los Cabos is the most affordable starting point of the three we have listed, due to its proximity to the destination. Expect flights to be between $230 to $300.
Houston area to SJD: Flying from Houston to Cabo is around $400 per flight.
NYC to SJD: Flights cost between $500 and $700, typically with at least one stop.
Transportation from the Airport to Los Cabos Honeymoon Destinations

It's recommended you book your transfer arrangements in advance to ensure a reservation. However, don't forget some resorts may include transportation from the airport to the hotel and vice versa, so be sure to ask.
Airport Shuttle

You can take a shared airport shuttle to get from the airport to your destination. It will likely stop at various honeymoon resorts but it will also be a more economical option than if you book a private service.
Private Luxury Vehicles

You can book a private car service to take you to your honeymoon resort in style, including SUV options and limousines.
Airport Taxis

Taxis from SJD airport can be arranged for honeymoons in advance but only for travel from the airport to a hotel, not to other areas of Cabo San Lucas. They even offer complimentary water and beer for your ride!
Prices can easily be viewed on the SJD Taxi website so you won't have any cost surprises going this route.
Public Buses

This is the lowest cost option for transportation from the SJD airport to your honeymoon resort. The bus only leaves from Terminal 1 so if you arrive to Terminal 2 you'll have to walk over one terminal. (There are only two terminals at SJD.) Tickets can be purchased inside Terminal 1 and buses run daily, about every ten minutes from 4:30am to 11:00pm.
The bus operator is called Ruta del Desierto and the vehicles are easily recognizable because they're painted in purple and a yellowish-orange color.
The bus stops at the following locations:
San Jose Del Cabo Downtown
Tourist Corridor
Cabo San Lucas
Should You Plan for a Peak or Non-Peak Honeymoon in Los Cabos?

The luxury resorts you'll stay at in Cabo San Lucas for your honeymoon getaway should be clear of spring breakers, overall. Honeymoons are a time to spring for something you wouldn't normally book for a regular getaway, after all. However, if you're looking at value resorts be mindful of visiting Cabo San Lucas during spring break. This is typically between late March to mid-April.
Weather in Cabo San Lucas

The area receives very little rainfall throughout the year with September being the wettest month. However, the average rainfall in September is still low, at less than three inches, total.
Average temperatures are delightful year round, with December and January averaging in the 70s and summer yielding 90 degree days.
Cabo San Lucas Time Zone

Cabo San Lucas is in the Mountain Standard Time Zone, the same time zone as Denver, Colorado. They observe daylight savings as well.
LGBTQ+ Friendliness in Cabo San Lucas

Gay marriage is legal in Mexico. While some states in Mexico are only slowing catching up to the national law, you should not expect it to be an issue at any of the honeymoon resorts or on the beaches in Cabo San Lucas.
Hotels and Resorts to Consider for Your Cabo San Lucas Honeymoon

There are plenty of options for a couple desiring a honeymoon getaway to one of the most beautiful destinations in the world. Here are five standouts we recommend: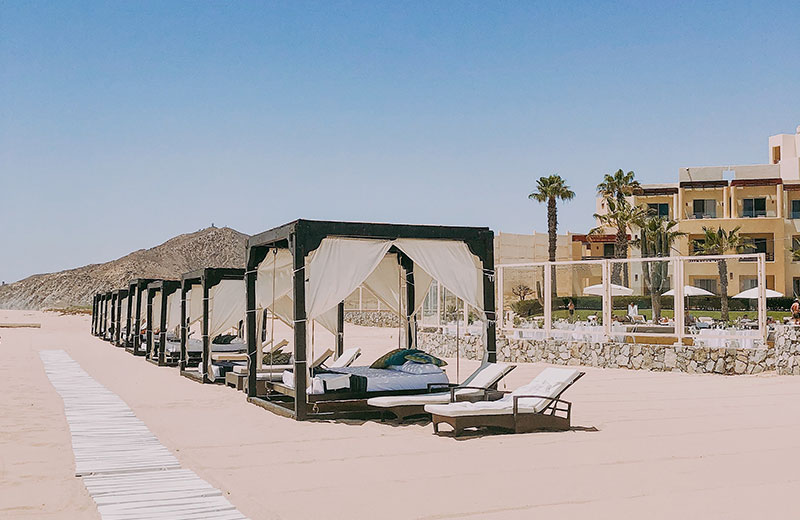 Activities for Couples in Cabo San Lucas
Spa Treatments

If you love spa treatments be sure to inquire with your resort about spa services, or book one of the hotels in the area that is considered a spa resort, including the ones we listed above.
Water Sports, including Stand Up Paddle Boarding and Surfing

Head out on a Stand Up Paddle Board at Medano Beach or Monuments Beach to paddle your way along the Pacific ocean. Your honeymoon resort will likely have them available to rent or include them in the resort activities as well.
Jet skiing or parasailing at a beach resort are also fun activities to sign up for if you want to get off the beach in Cabo yet still enjoy that salty, coastal air outside.
Mezcal or Tequila Tastings

Mexico is well known for quality mezcal and its tequila. Consider booking a tasting to learn more about the country's most prized liquor.
Gourmet Dining on the Water

Many resorts offer unique dining experiences including candlelit dinners on the beach or even a unique dining experience sitting on the water of a pool. A honeymoon package at your resort may even include this experience, which would make your vacation as honeymooners even more memorable.
Dune Buggy Tours

Travel along the beaches of Cabo as a couple in a unique way: in a dune buggy. Roundtrip transportation from hotels is included. You'll also be able to see some of the desert areas of Cabo San Lucas, which you may not otherwise see during your honeymoon. You must have a valid driver's license for this activity – one of the two of you will be driving the buggy.
Golf in Cabo

There are several world class golf courses in Cabo San Lucas, designed by stars of the sport. Many of the courses have gorgeous beach views. Here are six of the courses in Los Cabos:
Cabo Del Sol, ranked among the Top 100 Golf Courses in the world by Golf Magazine.
Cabo Real Resort, with every hole featuring beautiful sea views.
Cabo San Lucas Country Club (formerly Raven Golf Club), a gently sloping course with views of the Sea of Cortez.
Club Campestre San Jose, a signature Jack Nicklaus course, with views of the Sea of Cortez and desert mountains.
Puerto Los Cabos, uniquely designed with 9 holes by Greg Norman and the other 9 being a Jack Nicklaus signature design.
Pamilla Course, a 27-hole course with beach views from every hole (closed during the pandemic).
Test Drive a Cabo San Lucas Honeymoon

Want to try this honeymoon at home? Even if you're not at one of the luxury hotels in the area you can pretend you're honeymooners enjoying the cuisine, music and ambiance in the area with our Honeymoon-at-Home date night for Cabo.
Don't forget to add these experiences and more to your Honeyfund, Mexico honeymoon registry.
Note: If you purchase through this e-mail, Honeyfund may earn a commission. You will not pay more when buying a product through this link. In fact, Honeyfund works hard to make many recommended products and services available at LOWER rates. We ONLY recommend products and ideas we use and love ourselves.