This entry is from our Expert Guest series where wedding and honeymoon professionals share their best tips on creating memories that last a lifetime.
If you're a bride or groom on a budget or a couple who just wants to make sure the wedding funds are handled practically, you might be wondering if there's any room to economize on things that come after the wedding, like honeymoons and wedding photo albums.
Since you're on this website you already know that it's absolutely possible to gift yourself a honeymoon and not break the bank with Honeyfund. But what about those little luxuries, like a wedding album? Oftentimes, photographers will offer a package that includes album creation, but this seemingly small add-on can add up to big bucks.
I recommend letting the photographer do her job (take amazing photos) while you save some cash to spend on your honeymoon. How, you ask? By designing your own cherished wedding photo album!
I can hear you now: "I'm not creative, I don't know how, I'm too busy," etc., etc. But I'm here to tell you that creating your own album is much easier than you think. And if you're wondering why you should even create an album instead of just housing the photos on your computer, here's why:
A Wedding Album Is A Permanent Record
Although nothing is totally permanent, paper tends to last longer than laptops and compact discs. Think about it: walkmans turned to discmans, VHS turned to DVDs an then Blu-ray, flip phones turned to smart phones, and the list goes on. But paper – paper never goes out of style. When you create a wedding album, you won't have to worry about being able to access your photos. Your most precious ones will be right there between two gorgeous covers.
A Wedding Album Offers A Personal Experience
Just as reading a book on a tablet is different from reading a physical book, there's something special about holding a wedding album and looking through the pages. Would you rather click through all your wedding photos on your laptop on your first anniversary or sit down, pop some champagne, and relive those precious moments in storybook style?
Plus, a wedding album gives you something to share with friends and family, and perhaps even grandchildren in the future! It's hard to call a USB stick an heirloom, but a bound book that tells your love story through photos? Absolutely!
Creating A Wedding Photo Album
So now that you know why you should say yes to a wedding album, here's what you need to know about creating one.
When you design your wedding album you get to choose how it should look based on your likes and style. The easiest and most affordable way to do this is to use an online album design software.
This kind of software allows you to choose the type of album you want (square, landscape, portrait) and the size (12×12, 10×10, 11×8.5, etc). It also gives you the freedom to choose the cover material, design, and paper style.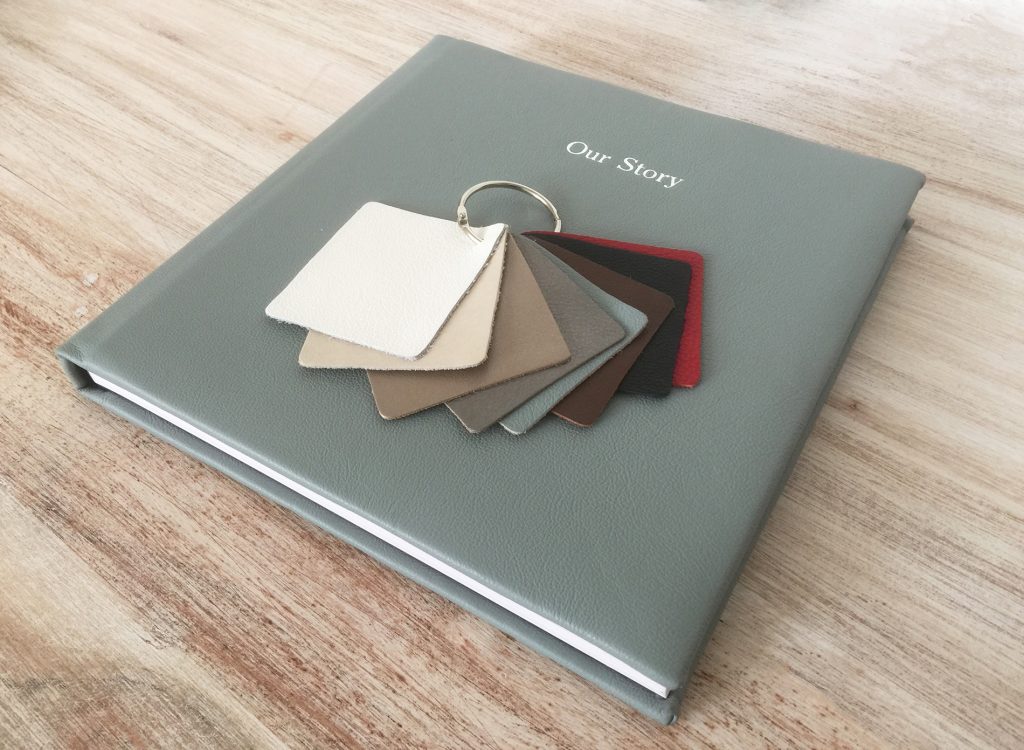 Wedding Album Cover and Paper Styles
For example, you could choose from the softcover and hardcover book styles. Softcover books are perfect if you are looking for something simple and inexpensive or as a giveaway to family and friends. The hardcover book is sturdier and looks professional and polished. A layflat album style is one of the best wedding album styles, as it offers panoramic displays of photos without any cuts or folds and has sturdy page options. The pages lay perfectly flat offering a stunning display of your wedding images. The flush mount album is a top of the line layflat wedding album offering very ridged page thickness and the best quality photographic papers.
Designing Your Photo Display
Creating your own wedding photo album means you get to design it however you want. Perhaps you'll go for a clean, classic layout with white pages and no image overlays or use elegant patterns and art elements that can create a very unique look to your book.
Or maybe you'll love the look of a modern layout with blended images and overlays. You could also choose different styles of backgrounds to match your photos to your wedding colors and/or theme.
It's entirely up to you, and that's the best part about creating your own wedding photo album. Sure, saving money is great (more for the honeymoon!), but it'll also feel wonderful to have a unique keepsake to look back on and share with family. Display it on your coffee table, by your bedside, or bring it out on your first anniversary and relive the special moments all over again.
Bio: Founded by Carol Sejd,  My Bridal Pix offers wedding photo books that you can create yourself ' using our software and template, By creating your own album, you can save money and while producing the custom album you really want.  Check out your options at  www.mybridalpix.com.