This entry is from our Expert Guest series where wedding and honeymoon professionals share their best tips on creating memories that last a lifetime.
Can you plan a wedding in a short amount of time? The answer is yes! I'm Melissa, event and wedding planner for Minneapolis-based, MH Event Productions and Consulting. In the last 10+ years, I have planned every kind of event you can possibly think of; big productions hosting 1000+ people to weddings of 250 to small baby showers that only have about 20 people. Whether the event has been big or small, there are times where I have had over a year to plan, then there have been events where I have had only 2 months! Either way, I got it done! How? The key is to stay organized and be smart about it.
Tips To Plan A Wedding In A Short Amount Of Time

Select Your Venue
If you don't know where to start when it comes to planning, get the people involved within the event lined up first! This would be your vendors and your guests. The first vendor to book for your wedding is your venue. They are the one vendor that sets the tone; the location, time, date, theme, you name it! This will allow you to narrow down the other vendors needed to make the day complete, as most venues are booked about 6 months out, if not more. So, email a handful in case some are booked already, but don't forget to do your research and look at reviews FIRST. Don't just book someone right off the bat because they were the first ones to reply back saying they are available. So research, research, research, even BEFORE reaching out! Just because you are on a time crunch doesn't mean you need to settle for just anyone.
Save Your Date
In addition to vendors, the next group of people to reach out to after booking the venue is your guests, including the bridal party. Although you won't have all the details to send an actual invite so they have all the necessary information, you can send a Save the Date with the location and your wedding website – Yes, have a website! As you get more information about the big day, your guests can get updates as well and plan accordingly.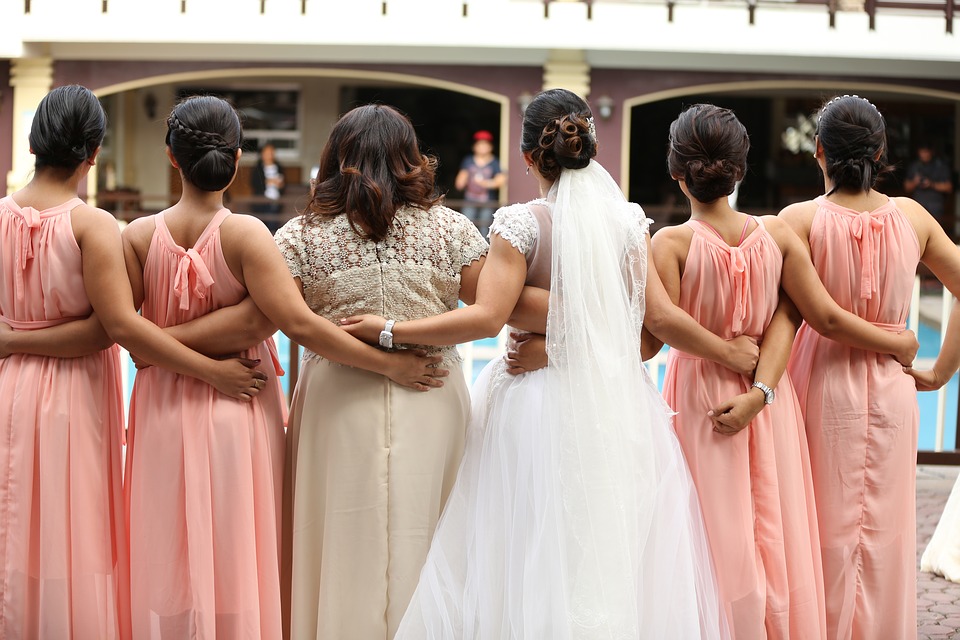 Choosing Wedding Attire
The attire is next. Being a wardrobe stylist in addition to an event planner for 15 years and also offering it within my planning packages, I can tell you that buying bridesmaid dresses online is becoming more and more popular with my brides, especially the brides that ARE trying to plan a wedding in a short amount of time. Can I also mention that it is easy, too? You can pay a little bit more to have dresses shipped overnight; you can order multiple sizes and return the ones that don't fit. Again, this is easy for those brides that have a wedding date just around the corner. But what about the guys and their suits? That's easy peasy! Most guys do not pick out their suits until about 4 months ahead of time anyway, so do not worry.
So you've got your vendors, your guests and the attire taken care of, but what about YOUR attire? You can easily buy a dress online from a well-known store although the design will be simpler and not your authentic wedding dress type of look. If you do want that authentic wedding dress style, there are several bridal consignment stores you can visit which are becoming more and more popular or you can buy right off the rack from bridal shops. However, with this option, you need to have patience, especially if you are not a sample size. It is definitely doable though – don't fret. I've had to go that route with brides before and everything was still perfect! Hint: some bridal shops will host sample sales. Photo credit: Tinge Photography
On the other side of things, if there is a little bit of time before the wedding, shops may be able to rush the dress, but it will come with a hefty price tag. In the end though, you will have a brand new dress.
Finalizing Details
Then come all the details. This is where it can get tricky as your schedule will get crazy busy in a short amount of time, but 1) that's what personal days and PTO are for, 2) you gotta do what you gotta do, and 3) just remember to breathe, stay organized and keep your checklist nearby.
After reading this whole blog, are you feeling overwhelmed or scared? This is where the price of a Day of Coordinator or a Full Planner should not have a price tag. Not only will you save yourself stress and time from researching, especially the day of, but we are professionals and have dealt with this sort of thing before. We will get your wedding planned in no time, but again, just be prepared to be busy with meetings and tastings – but who doesn't like tastings?
Happy planning, future brides!
Make honeymoon financing easier with a Honeyfund honeymoon registry.
Bio: MH Event Productions & Consulting is an award-winning, full service, event and wedding planning company with 15 years of experience based in the Twin Cities.